Pros
40 million users
Active usership
Almost 50/50 gender split
Good for short term dating
Good for long term dating
Young membership, between the age of 24 and 35
Free accounts can send hearts.
Cons
Messaging requires a premium membership
Few matches per day
Can be expensive
Limited search options
Requires a photo
Can only browse one profile at a time
Limited messenger service
First Impression
This dating site feels very modern, which makes it also feel very secure and safe. It feels like you're signing up for Facebook or some other social media account. Plenty of features, including smart pick and carousel, make this dating site fun—sort of like Tinder.
Zoosk Interface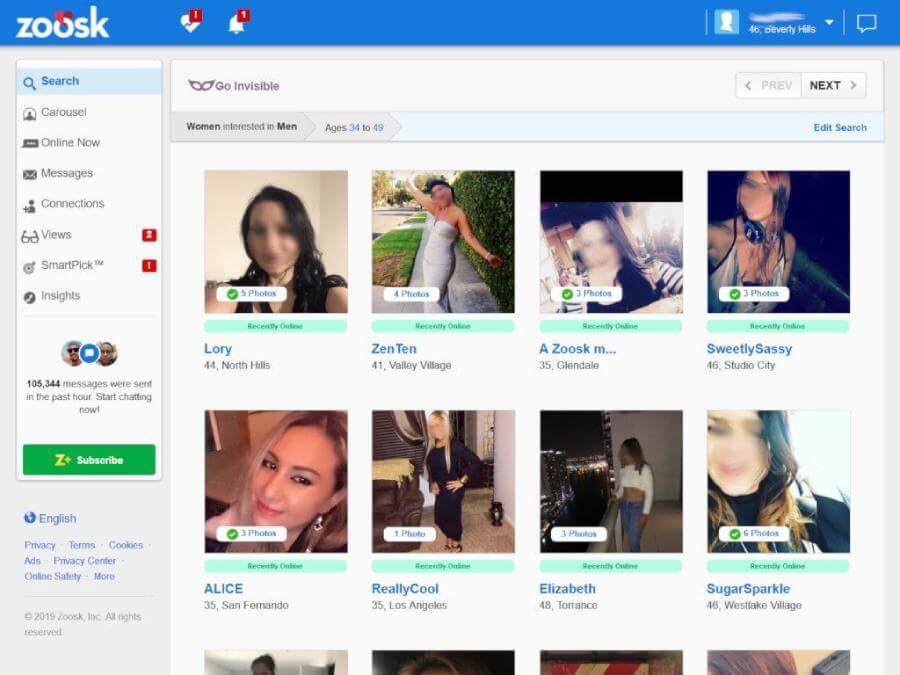 The Zoosk interface is strikingly familiar. It looks like an older version of Facebook, minus the newsfeed section. This makes the dating site a lot more comfortable to navigate through. The menu list on the left-hand side is well organized, and all suggested members are presented neatly in the center.
Zoosk Users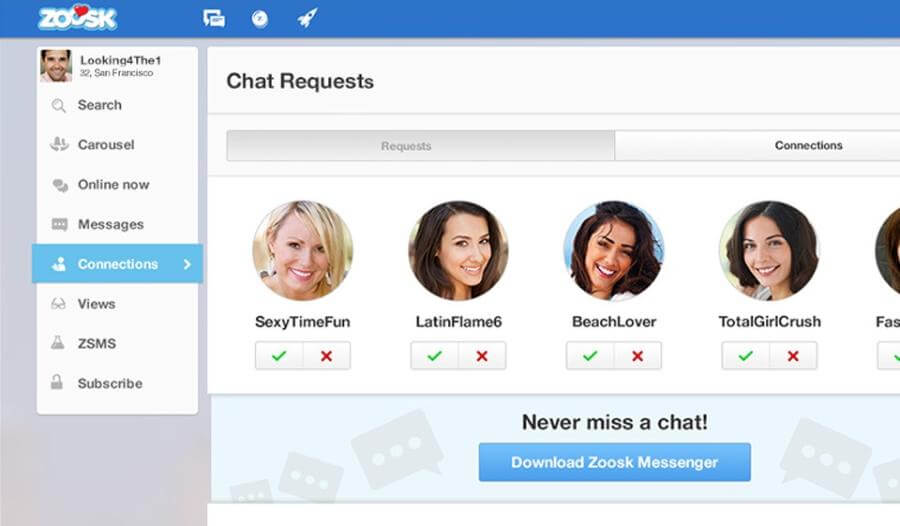 Zoosk dating has many members, so to help narrow them down, you can use the search features, including profession, views, and looks. Most members we came across appeared to be interested in serious dating and not so much one-night stands and flings. There will be some short-term dating seekers out there.
Zoosk Sign Up/Login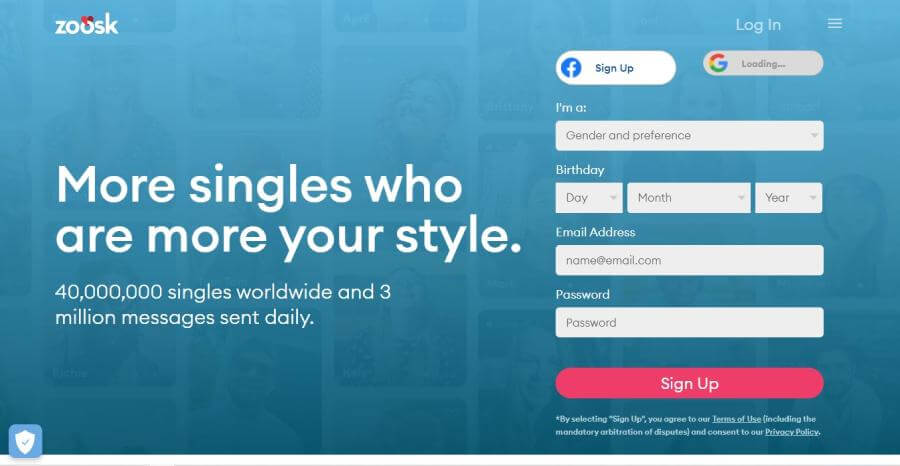 Facebook and Google account members will sign up for Zoosk to be a breeze as you can sign in with either social media account. If you choose to sign up manually, all you need to provide is some basic info, much like any social media or dating account, including your date of birth and e-mail address.
Profiles Quality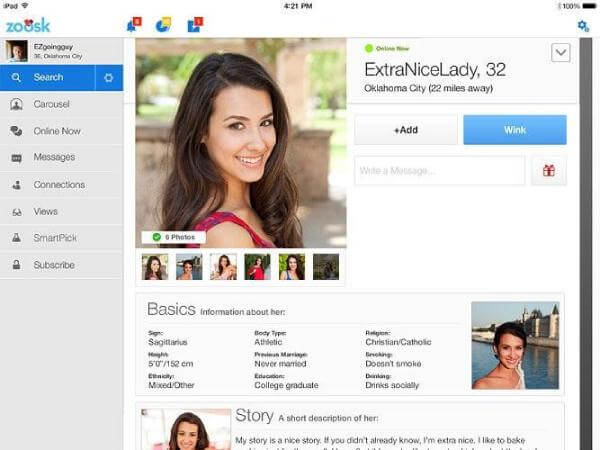 After filling out the basics, you'll be sent a verification e-mail. After clicking the link sent to your e-mail, you'll be able to access the site. However, you cannot complete the profile unless you provide the site with a valid phone number. This is a bit unusual for a web browser-based dating site. However, the site is available as an app, so it makes sense.
You'll be sent a text containing an additional verification code. Once you type this code into the site, you'll be able to access the full dating platform that is Zoosk.
Another thing that makes the Zoosk sign-up process stand out is that it uses VPN to verify that you are located where you claim you are. This prevents fake accounts from being made, as it stops people from lying about their location. It also ensures that the Zoosk carousel feature is more accurate, location-wise.
Communication
To engage in proper communication on this dating site, we'd definitely recommend buying a premium account. Although a free account is good for browsing through dating profiles and showing interest in certain ones, it's impossible to engage in proper conversation with any of the people you're interested in without first paying.
If you send a flirt to a premium member while using a free dating membership, the premium member will be able to respond to you. You can't reply, however.
With a premium account, you can communicate to users after selecting them on the Carousel feature. You can select either 'check' 'maybe,' or 'no' for each dating profile the carousel suggests to you. After matching with someone, you can send them a smile or a heart. The person will then appear in your inbox, and you can engage in conversation from there.
Subscribe to a premium account today and start selecting matches on the carousel!
Costs and Prices
Zoosk's free membership is a great way to get a taste for the website but can be limiting if you've come to the site to engage in serious dating.
Prices:
1 month – $29.99 per month
3 months – $20.00 per month (Available as 1 lump payment of $59.99)
6 months – $12.50 per month (Available as 1 lump payment of $74.99)
Coin Prices:
180 coins – $19.99
480 coins – $39.99
It is possible to unlock some of the premium features using just coins on this dating site. However, it is better value for money to invest in a premium dating membership, as it can work out to be costly using just coins.
It is worth noting that Zoosk dating charges an additional beginner's fee of $24.95, which gets added to whatever subscription package you select. This makes starting a premium account with Zoosk dating a bit expensive.
Free Account
With a free Zoosk account, you can complete the registration process and verify your E-mail and phone number. You can stress interest in other dating profiles by sending hearts, and you can even try out the Carousel feature. Sign up to Zoosk dating for free today to see what's so good about it!
Premium Account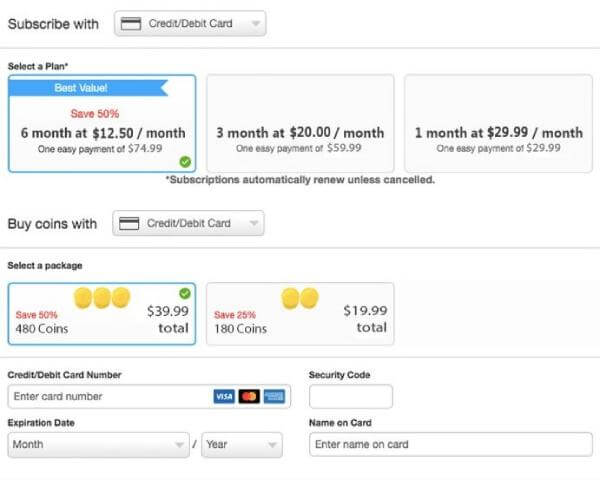 With a premium Zoosk dating account, you can access the website more freely. You can:
Initiate conversation
Hide your profile from other members
Use the SmartPick feature, which selects ideal matches for you
Experience a more optimized search
Spend a long time on the site's Carousel feature
App and Mobile Version
Zoosk boasts a modern app that can be downloaded from both the App Store and the Play Store. On the Play Store, the app holds a rating of 3.6, with most ratings being 5 stars. Positive reviews cite how enjoyable the app's features are, how friendly the members are, and the variety in age groups. Negative reviews cited the lack of accuracy about the search preferences.
On the App Store, Zoosk dating boasts a rating of 4.3 overall, the majority of reviews being 5 stars again. Positive reviews explain that Zoosk positively impacted their lives and helped many people find long-term partners.
Privacy and Safety Features
As we've explained, the verification process on Zoosk dating is more complicated than most other dating sites and requires data from your VPN. It also requires a phone number, unlike other dating sites. It's a modern app, with all safety features in place, with the privacy of its users respected.
Our Experience on Zoosk
Zoosk is a clean website, simple to use, and does secure your dates. If you want to experience what a modern dating site feels like, definitely check out Zoosk, which is open to all ages and is pretty inclusive too. We were able to converse with other singles, who were all eager to know us.
FAQ
Is it Difficult to Get Your Photos Approved on Zoosk Dating?

You can get your photos verified on the dating site Zoosk to prove to other members that you are legit. To do so, you need to film yourself as a video selfie and submit it to the verification section available on the app version of the dating site.
Is There Any Way to Find Out if Other Profiles Like You on Zoosk?

Yes, you can figure out who likes you based on whether or not they decide to message you.
Is it Easy to Block Someone on the Dating Site Zoosk?

Yes, it's very easy! To block a dating profile on Zoosk, select the grey arrow on the user's profile and select 'block.'
About the reviewer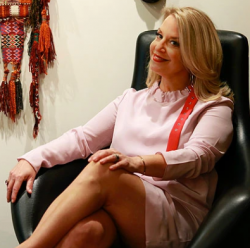 Latest posts by Dr. Berman
(see all)