Pros
Lots of matures
Fast sign up
Active users
Worldwide
Multimedia capabilities
View profiles for free
For short-term dating
Cons
Need to pay to message back
Not for long-term dating
Predominantly male users
Can't link any social media account
There's a mobile version but no app
Not for young people
More about sex, less about dating
If you're over a certain age but are unprepared to act a certain age – especially with your sexual partners – Maturesforfuck.com is the site for you. The biggest demographic on this site are males over 55, looking for one-night stands and regular dating. It's a bit of a kinky side, so you can expect no holds barred.
First Impression
The interface of Maturesforfuck is exactly what you'd expect from a Together Network dating site. If you've used any of their dating sites before, you'll know exactly how to use it from the get-go. You're immediately faced with some local suggested matches without even putting in any preferences yet.
Maturesforfuck Interface
As mentioned before, the interface is very recognisable if you've used other dating sites before. It's not too overly noisy, with only simple commands visible from the homepage. Everything is where you'd expect it to be, from the inbox to the search engine. Keeps dating as the main focus on the site.
Maturesforfuck Members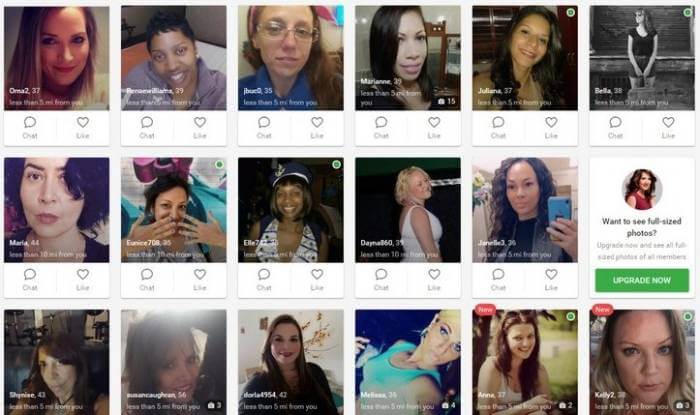 Although the site advertises that you should visit this site for naughty women, you're likely to find all sorts of women on this dating site, from 20-year olds to 70-year olds. They're all forward with their intentions, and you'll be able to tell what kind of dating they want straight away.
Matures for Fuck Sign up/Log in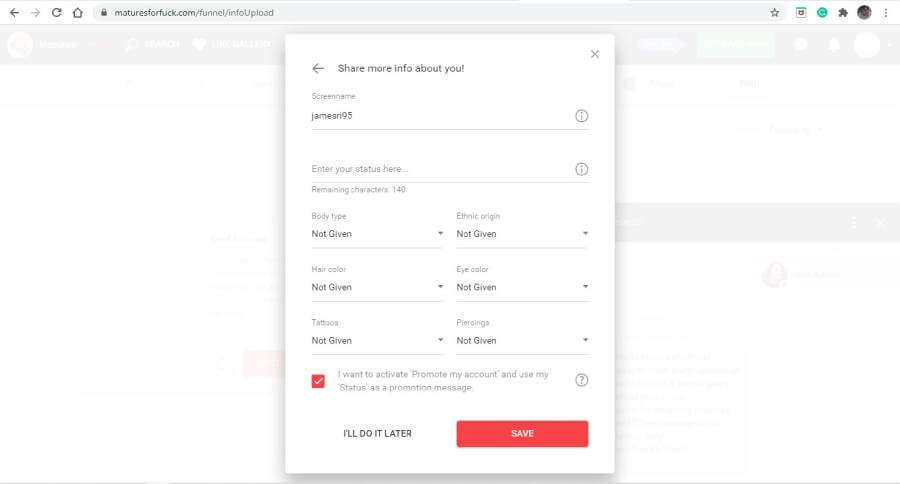 The sign-up process is simple. The first stage is like every other dating profile you've signed up for. You fill out your gender, sexual orientation, what you are looking for, and provide your e-mail. Once confirmed, the site will ask you for more info, such as body type, hair length, etc.
Profiles Quality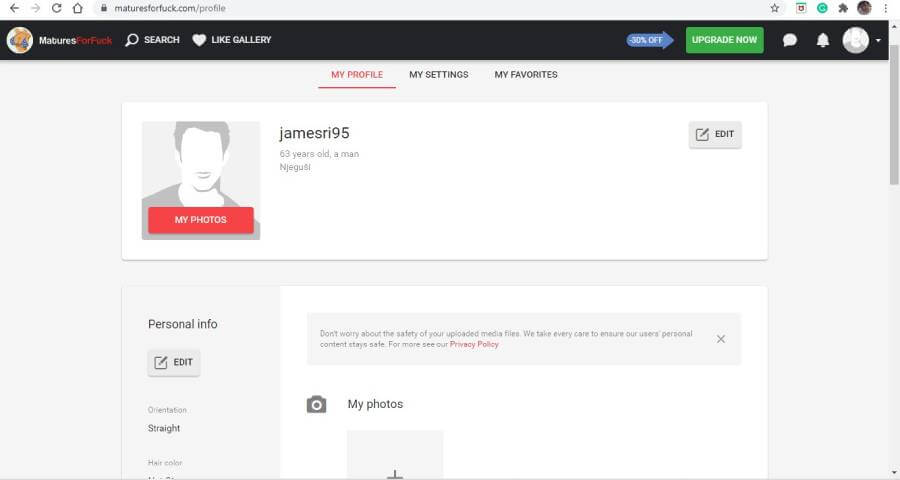 Filling out a profile on this site is extremely easy and quite fun. It's satisfying narrowing down your options and identifying exactly what type of mature woman you want to start dating. You will not encounter anything out of the ordinary when signing up for this dating site, as it will appear as easy as signing up for any dating profile or social media account.
Although you can't sign in using Facebook, or any other form of social media, the process will not take you long to complete, and you'll be able to get your account finished and ready within 5 minutes.
This site is good because, due to the fact it's not linked to Facebook, it's very easy to stay anonymous if you don't want people to find out about your kink for dating older women. You can easily skip over a lot of the sign-up stuff to reveal nothing on your profile.
Communication
Communication is very similar to other dating sites that are owned by Together Network dating. Only people who pay for the dating site can message one another directly. If you've got a free account, you cannot message people at all. However, you can stress a dating interest in them by giving their profile a 'like'. Giving a profile alike not only saves the profile to your liked folder, but it also notifies the member that you are interested in them. They may choose to message you from there.
You can receive their messages; however, you'll have to switch mode and buy premium to reply.
Paid members have unlimited access to match with as many people as they want and message them as much as possible.
The messaging service is good for a dating site, with the option to send multimedia messages and emojis.
Costs and Prices
When we signed up for the site, it offered a 30% discount on all payment plans, which is great value for money. This helps make the dating site a lot more affordable and justifiable to sign up for. You should give it a try at this discounted price!
1 day – $0.99 per day
1 week – $1.43 per day ($1.00 per day with discount)
1 month – $2.14 per day ($1.50 per day with discount)
3 months – $0.77 per day ($0.54 per day with discount)
Try the 1-month deal, as it is the most popular deal selected by Maturesforfucks members. If you're looking for great value for money, try the three monthly deal!
Of course, you can keep the free profile running for as long as you like, but bear in mind and you won't have the benefits offered to premium account members. If you want to use the site for dating, definitely invest in a membership.
Free Account
With a free account, you can read messages and stress an interest in dating another profile by 'liking' their page. You can view a mini version of their profile and see a limited version of their profile pic. You can also sign up and edit your page free of charge.
Premium Account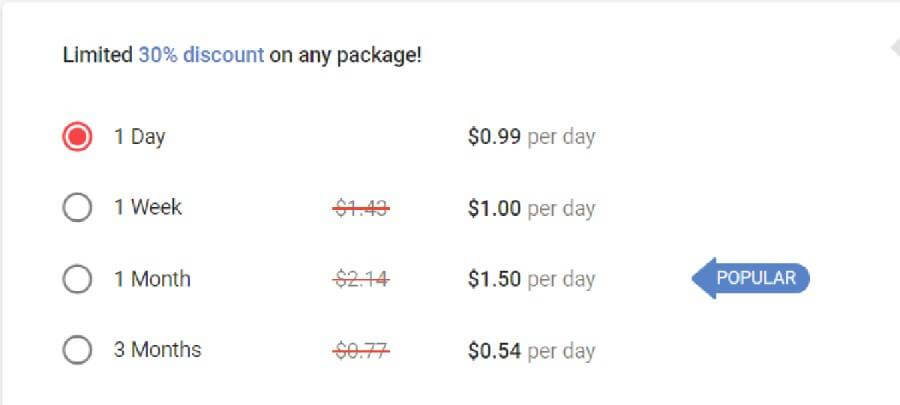 With a premium account, you can use the dating site to its full potential. You can spend an endless amount of time replying to matches, send them multimedia messages, and start mature dating. You can also view profiles fully, with full-sized images. It would be pointless not to get a premium account.
App and Mobile Version
Unfortunately, there isn't an app available to download from the App Store or the Play Store. This is a dating service designed for web browser-based flirting and hasn't yet made the jump into smartphones. Despite this, the website still maintains a good following, and membership of the website, with roughly 43,000 members online weekly.
It is possible to use the dating site's mobile version when on the go, which is the same as the browser version. There are no added extra features to the mobile version, and it appears much the same as it does on a desktop.
Privacy and Safety Features
There is no pressure to share a lot of data about yourself on this dating site. The site does not require a lot of personal information to set up your dating profile, and it's possible to keep your profile private. There may be a few fake accounts, but not a lot of scammers.
Our Experience on Maturesforfuck.com
We'd recommend Maturesforfuck.com if it's mature ladies who are serious about bedroom fun. Out of the real accounts we were matched with on this site, all were eager to get right to the sex chat, with no preamble or messing around. It's, therefore, not the place to find innocent dating.
FAQ
Do You Have to Get Your Photos Verified on the Dating Site Maturesforfuck.com?

Photographs do not need to be verified on the dating site Maturesforfuck.com.
Is There Any Way to Find Out Who Has Liked Your Profile on the Dating Site Maturesforfuck Free Version?

Yes, you can check which profiles are interested in your page using a free Maturesforfuck dating account. Users will either message you or add your profile to their 'liked' list.
Can You Block Accounts on Maturesforfuck.com Dating?

Yes, it's straightforward to block accounts you don't want to follow you or that you feel are disobeying the dating site's guidelines. You can click the 3 dots on their profile and block them that way, or you could report the account to the moderators.
About the reviewer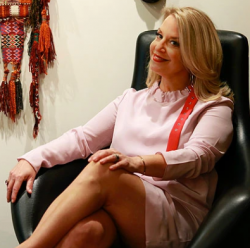 Latest posts by Dr. Berman
(see all)