Pros
Signing up takes an incredibly short time.
The verification of accounts via email – reduces the prevalence of fake accounts.
Five free chats are available upon sign up.
Get notified when someone checks out your profile.
Profiles are clean with no apparent lewdness.
NaughtyDate mobile site offers the same features as the desktop site.
Our NaughtyDate review confirms modern security features.
Cons
Playing the game like or not requires you to upload your pics.
Only premium accounts have access to photos.
NaughtyDate profiles could use a bit more detail.
Members galore but several seem to be inactive.
No downloadable app is available.
Video and photo messaging available only for premium members.
No do-it-yourself option for account deletion.
Primarily catering to singles looking for a Naughty Date, the site offers users quick results. Its base consists of young, similar-minded singles looking to engage others for fun times, mostly revolving around casual dating. NaughtyDate is affiliated with Together Networks. Their experience offering a matchmaking service has seen the member base grow over the years. As you take on online dating, internationally or in the UK, consider factors like safety, ease of use, and authenticity. Our NaughtyDate.com review seeks to highlight precisely what users seek from a dating site, accounting for pros and cons too.
First Impression – NaughtyDate
The site caters to members all over the world looking for intimate encounters, preferably dating, with no strings attached. A majority of the members on this Naughty Date dating site are young singles in the United States. Upon further review, NaughtyDate is appealing from the outset. High-quality personals are presented to you on the interface, leaving you yearning to join NaughtyDate.
NaughtyDate Interface
The interface boasts an intuitive and stylish design. For users hoping for something appealing, it has a cool and refreshing look, quite unlike a casual dating site. NaughtyDate caters to heterosexual singles yearning or intimate meets. The platform facilitates this with user-friendly icons and convenient search functionality.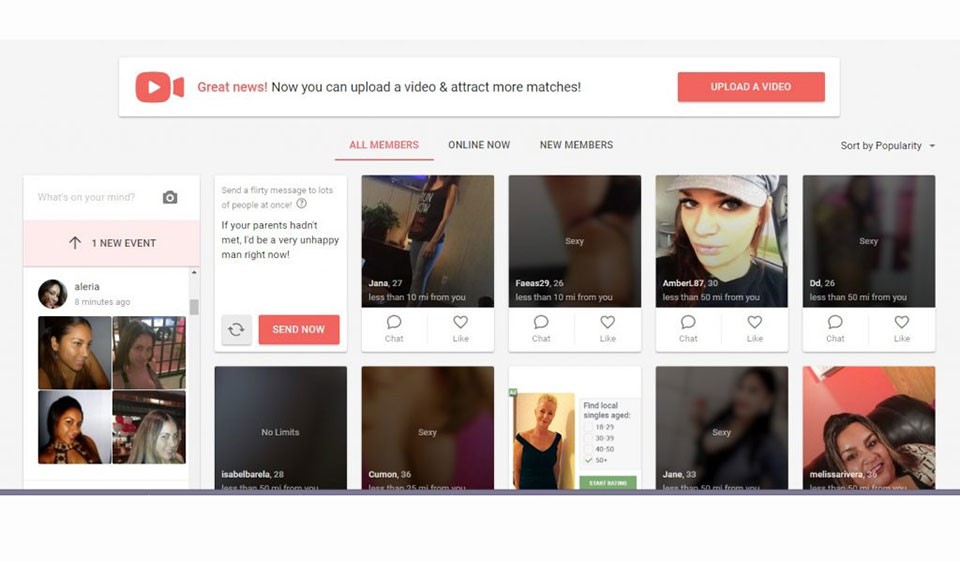 Members
NaughtyDate is broken down between heterosexuals, gays, and lesbians. However, the site seems to attract more straight singles than members of the LGBTQ community.
Count of Users
Membership Base: 300,000 based in the United States
Best for: Young adults seeking naughty flings
Recommended Age: 25–35-years-olds.
On numbers and how many are located in the UK, our review of statistics shows:
40 % are located in the USA.
8 % in the UK.
7 % in Australia.
And the remaining NaughtyDate members are spread out across the world.
A review of NaughtyDate and its user base shows 80 % of the user base to be men, which is a plus for women, and gay men, seeking casual meets.
Profiles Quality
Fortunately, or unfortunately, profiles on NaughtyDate aren't mandated to have photos, nor are there requirements for full details. It is great in saving time, but it defeats the purpose of joining an online dating. Several profiles on this dating site need additional data, including visuals. However, approved profiles are worth checking out on NaughtyDate. The visuals are incredibly compelling, with moderators taking time to screen everything for authenticity. Singing up and creating a profile takes less than five minutes.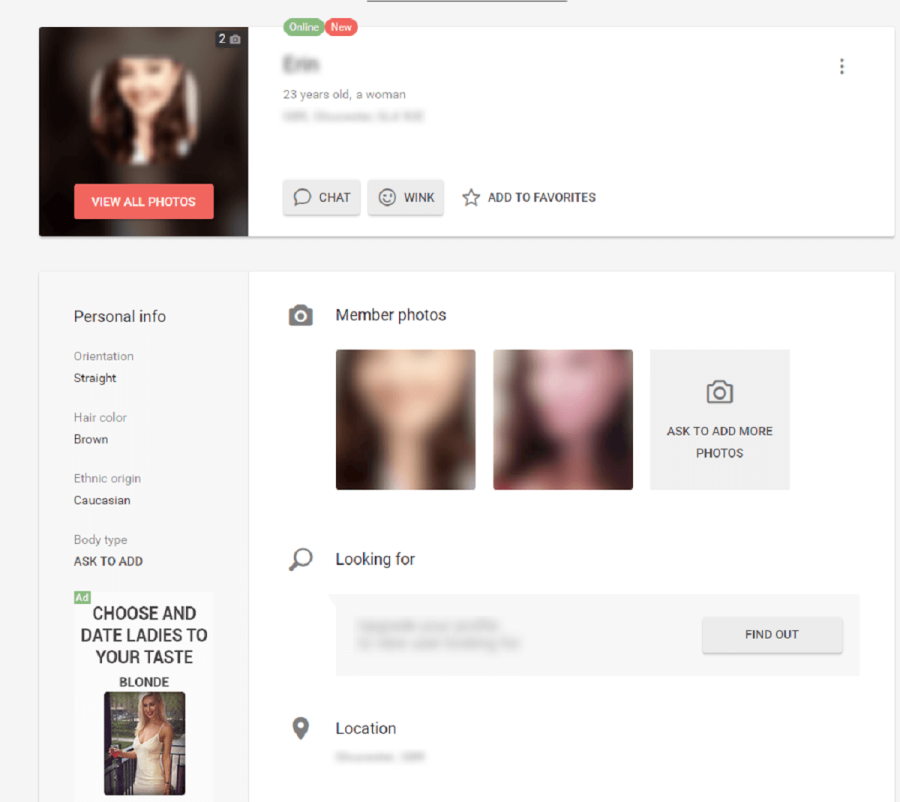 Communication
The quickest way to a Naughty Date with a UK local is via winks. These are free to send, or you could like pictures in the gallery. These are the cheapest (free) ways to communicate. On the other hand, using the chatrooms comes in handy when you want to get extra risqué. Using the video and photo messaging can get steamy; just the way UK singles want it. It is possible to encounter fake profiles rarely if ever occurs. The only limitation on NaughtyDate is the limited number of chats available for free members. Private messaging is a premium feature.
Costs and Prices
Using a free account, you can poke or nudge fellows and femmes on NaughtyDate. To capitalize on the site's hookup capabilities, make use of a premium account.
Free Account
Here's what browsing as a free user gets you:
Basic use of the search functions on NaughtyDate.
Get to send Flirtcast messages for intimate dating.
Check out messages in chatrooms (publicly).
And of course, a free NaughtyDate user can send multiple winks.
Premium Account
Alternatively, purchasing a premium account lets you realize the pros of this modern dating site.
Unlimited flirty chatting with other members.
'Looking For' is enabled – paying users can view what others seek in a compatible partner.
Photo and video messaging are possible with a NaughtyDate premium account.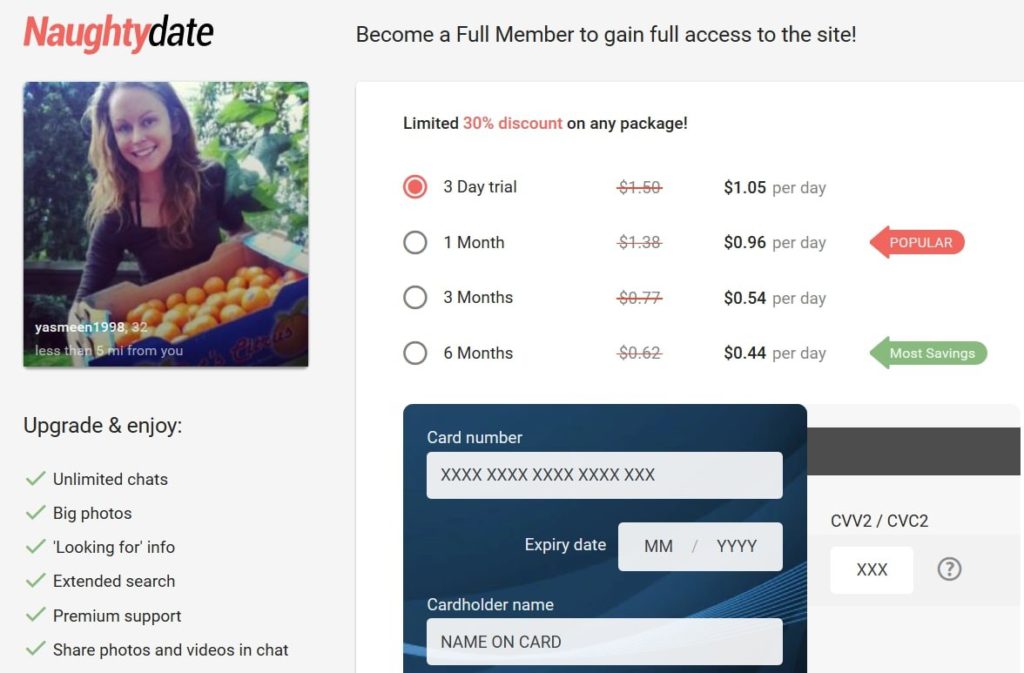 App and Mobile Version for OneNightFriend
A review of this dating service shows there is no app available for Android nor iOS users. However, there is an intuitive, aesthetically appealing, and easily accessible mobile site available. With this mobile version, UK members can access and update their profiles on-the-go.
Privacy and Safety Features
In a nutshell, this is what the site offers in terms of safety.
Encrypted chatting on SSL secured platforms, meaning all chats remain within the site.
All financial transactions are end-to-end encrypted.
NaughtyDate Moderators review profiles, freezing or deleting accounts with shady activities.
Email verification is for all new and currently running yet suspicious accounts.
As far as taking matters into your own hands, it is advised that all UK members be wary of malicious activities while on the site. Vigilance should be practised when sharing information on, and offline.
Our Experience on NaughtyDate.com
"The site gave me a new outlook on life – as far as dating goes. I was convinced online dating was a scam, even blocked certain sites on my desktop. My best friend got me to join after living a lonely, loser existence for months on end. I found my current fiancée living a block away from me, online, and looking for exactly what I believe I could offer. Thanks to the NaughtyDate dating site for the perfect love connection."
The Bottom Line and Rating
The UK is a marvellous place with sexy singles looking for safe and intimate fun. The site boasts affordable pricing, so you won't break your budget. It's a decent site to join away from bars and bogus classifieds on age-old sites.
FAQ
Is NaughtyDate Legit?

This site is as legit as they come and is a part of Together Networks affiliates.
Is the OneNightFriend App Legit?

Not really. Although there are many fake user profiles available, they do not make the App a scam. What you can do is be careful about who you chat with. Ensure they have verified profiles and a real photo on their profiles. If you feel like a person does not have an authentic conversation, boot them, and proceed with others.
About the reviewer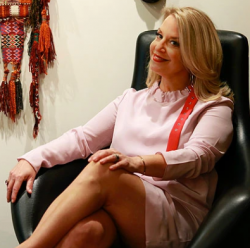 Latest posts by Dr. Berman
(see all)