Pros
Young dating membership
Free messages
3,500 members online every week
Mixed fetishes
Short term dating
Registration is quick and free
Safe dating mode available
Cons
Can't link Facebook
Less female members
Need to pay to view phots
Takes a while to get matches
Not for long-term dating
Not for mature dating
Limited number of free messages
This site has a 75% majority male users, most of which are young men. You'll find all kinds of sexual orientations on this site and members looking for fetishes such as BDSM. You'll find BBW looking for hookups and many Asian memberships looking for a liberal sexual life.
First Impressions
Together Network waste no time in making this dating website any different from their other dating ventures. This is a good thing because it makes the interface for this dating site very familiar. You will feel at home on this dating site if you've had any experience with a Together Network site before.
Upforit Interface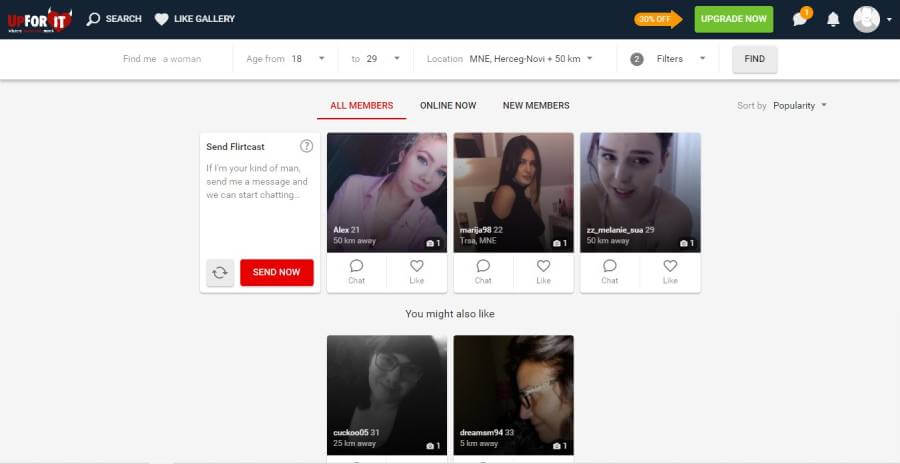 The interface on this dating site allows you to get the most out of this dating site without having to stray too far from the home page. Potential matches are there as soon as you log in to your account, waiting for your message. The inbox and search bar are also clearly marked, making the navigation of this site incredibly easy.
Upforit Members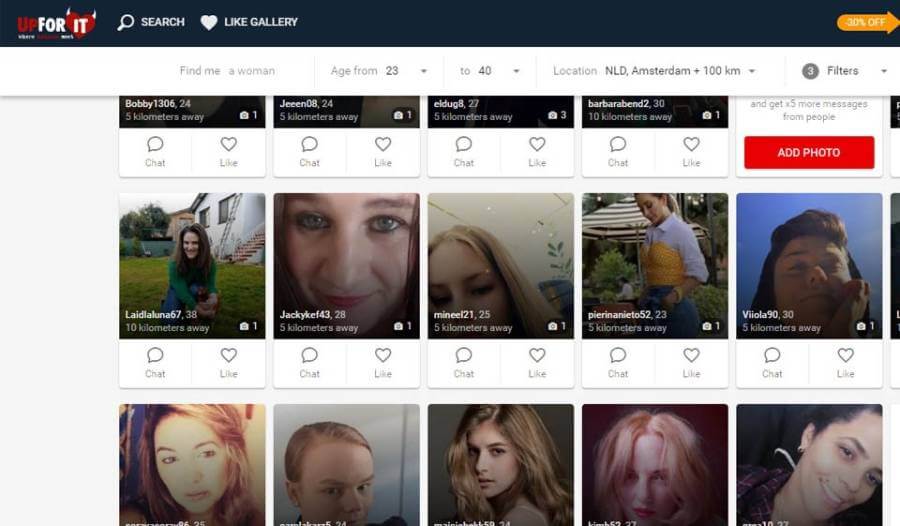 The members of this site are certainly up for it! Most of them want to skip the dating malarky altogether and get straight to the explicit stuff. People on this dating site are overly open about their inclinations in bed, as they don't feel comfortable talking about it day-to-day. Members are comfortable.
Upforit.com Sign up/Log in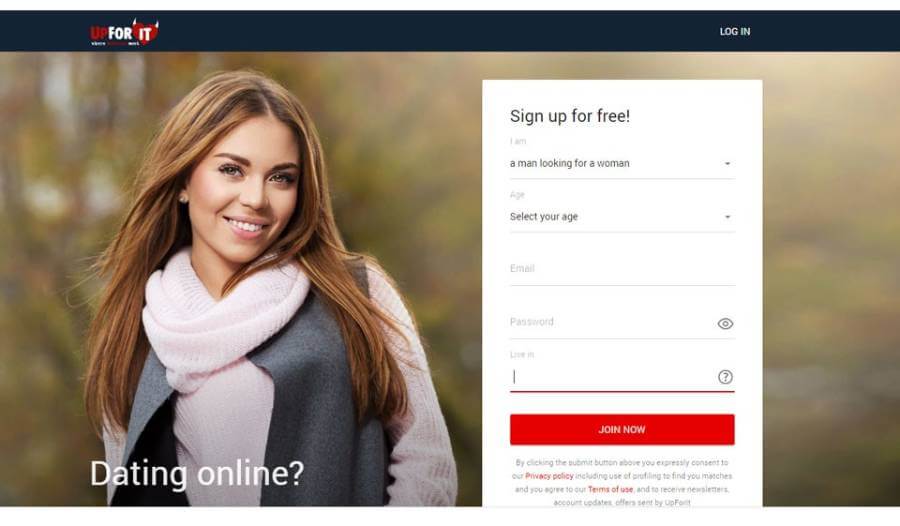 Upforit's biggest pitfall is that users cannot sign in with a social media account such as Facebook. You need to fill out a dating profile from scratch. This is a bit of a pain for some as they may be used to fast-sign up/log in to dating sites. You need to fill everything out manually.
Profile Quality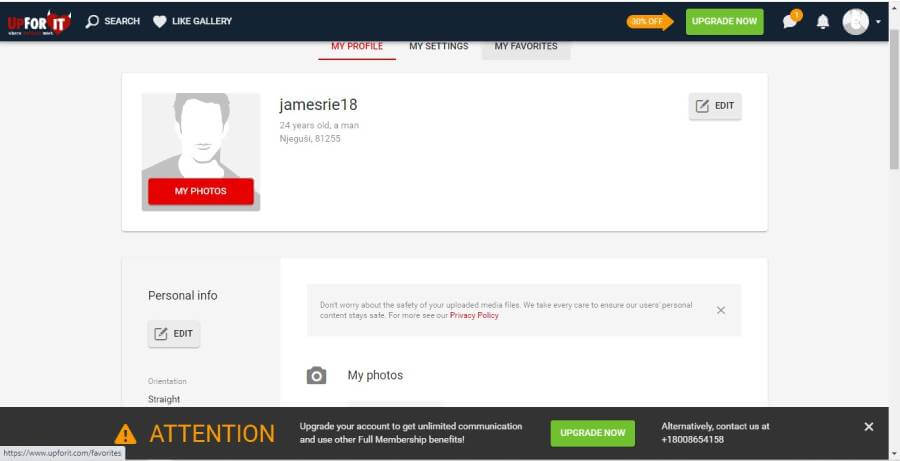 Apart from the basic parts of the profile set up – providing a username, your e-mail, your location and your password – it's up to you when and where you take the time to fill out the rest of the profile. If you're short on time, you can sign up for this site and leave your profile preferences for later. This is good if you've got a free trial for the site, and you only plan on testing the water and seeing if you want to commit time to fill out the rest of the sections.
Not that the preferences section takes longer to fill out. If you're on a dating site like this, you're probably expecting to have to fill out some specifics about the kind of dating you are into and what kind of sexual partner you are looking for. You can also specify what kind of sexual orientation you are looking for, body type, piercings, etc.
Communication
This dating site stands out amongst its competition as, unlike others, it offers 5 free messages to all members who don't pay for the site's services. This is a massive boost and helps give you more of an impression of what the dating site is like before committing to paying for it. As soon as your message, the site pushes for you to pay for more messages and warns you that your messages are running out, but it's easy to see past that and enjoy the privilege of messaging for free.
It took a little bit of time for the suggested profiles to reply to me, but that's not to say this happens all the time. It does still appear that there are always lots of members online. The people we interacted with seemed casual, with the potential for the conversation to turn explicit at any minute.
Costs and Prices
Upforit.com was offering a 30% discount at the time of us signing up for their premium services. This discount may be long-term, it may not, but it's worth checking for to see if you can save some money with this dating site.
Sign up for a free trial today, and see what discounts are offered to you on a premium membership!
Prices
3-day trial – $1.41 per day ($0.99 with discount)
1 month – $1.30 per day ($0.91 with discount)
3 months – $0.73 per day ($0.51 with discount)
6 months – $0.59 per day ($0.41 with discount)
Clearly, the longer you stay on the dating site, the cheaper you get it for. 6 months at $0.41 per day is incredibly good value for money, especially for this kind of exotic dating site. 1-month access to premium services is the most popular option amongst members on the dating site today.
Free Account
With a free Upforit.com account, you can register, select your dating preferences, and start browsing through potential matches. Upforit.com free accounts allow users to go a step further and engage with matches by liking their profile and sending them five free messages. This is unlike any other dating site!
Premium Account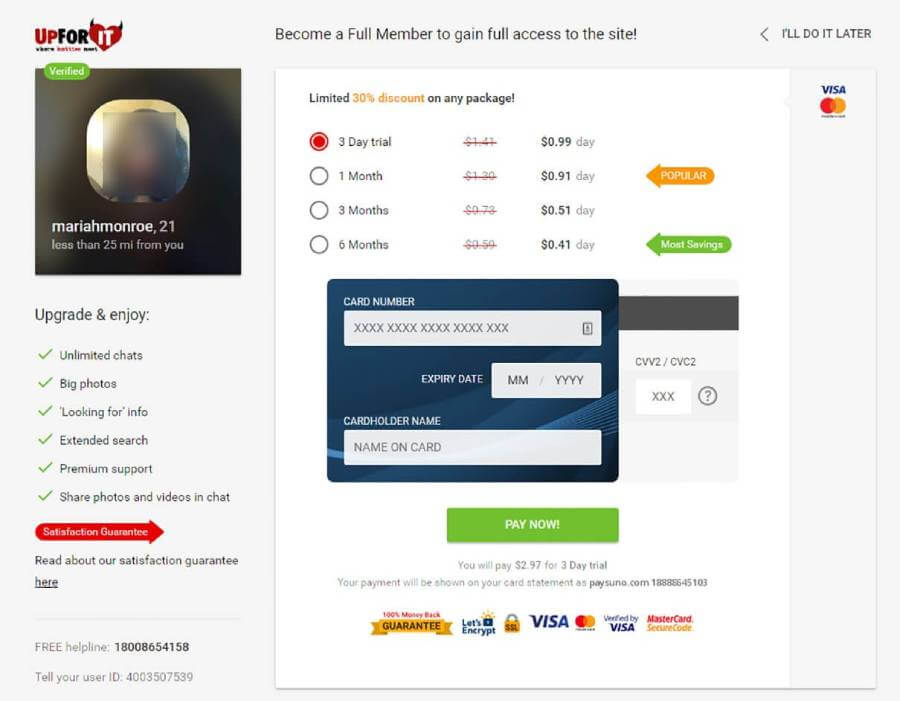 A premium Upforit.com account makes things more personal and allows you to continue the conversation you started with your free account! You can widen your search to meet your personal fetish needs, share unlimited messages with other members, and fully view other people's profiles. A premium Upforit.com account has no restrictions.
App & Mobile Version
Don't bother trying to search for a Upforit.com app in either the App Store or the Play Store, as you won't be able to find it! This site is website based and does not have an application available to download on your portable devices. That being said, you can use the mobile version when you are on the move, which operates pretty much the same as it does on your laptop. All of the site's features can be found on the mobile version, including basic search and the 'cute or not' game, which can be a fun way to pass the time when you're in transit.
Privacy and Safety Features
We noticed that there is always a very attentive administrator present on the site. She was there to respond to any queries we may have had and also any complaints about problems we were experiencing on the site. The site is very secure and is owned by a trusted dating website company.
Our Experience on Upforit.com
Overall, we had a great experience browsing through members with unusual sexual desires and preferences. It's very easy to feel safe and comfortable on this site, allowing you to confide in other users information about yourself that you would not normally reveal! It's secure, fun, and you should sign up for a free trial today!
FAQ
Is There Photo Verification in Place on the Dating Website Upforit.com?

There is no basic photo verification system in place. However, photos are regularly monitored, and explicit pornography will be removed.
Is it Possible to Determine if a Member is Interested in You with a Free Dating Account on Upforit?

Yes! With five free messages, you'll be able to find out if another member is interested in you.
Is it Possible to Block Someone on Upforit.com?

You can either go straight to the user's page and block them on the settings. Alternatively, you could report suspicious accounts to a moderator.
About the reviewer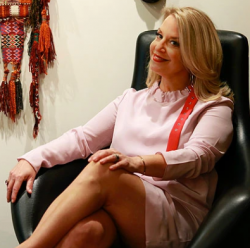 Latest posts by Dr. Berman
(see all)