Pros
Verification is available
View local users in a simple list
Verify photos to confirm you're real
Members are spread evenly – 50\50 gender split
Use Facebook account to sign up
Quick registration
Matches provided on a daily base
Cons
Verification not always required
Limited messaging
Need credits to use matchmaking game
Website could be exploited by fake accounts
No direct messages, only chat requests
Search is not free
Cannot see who is online
Qeep has become a popular dating app that is now used by many people on a global scale, particularly in Britain. It's designed to modernise the dating experience, giving members the chance to explore new members and find new dates. As most sites of its kind do, it provides matches and is available on a range of platforms, providing an exclusive dating experience for all people. So, what makes it special?
First Impression
Upon our first use, we instantly felt uncomfortable with Qeep. It aims to become a dating platform that provides a modern experience which means that many members should be young. Well, it looks a bit dated for a mobile app, and the audience is slightly older than you could've expected. However, the features and functionality worked well with our experience at this dating platform, while making contact can prove challenging which might be a deal-breaker for some.
Qeep Interface
The interface is hugely impressive because Qeep clearly recognises that people seeking a comfortable dating experience expect something more. There's no denying that things are easy to find, including the profile of people you like. Everything is where it needs to be on Qeep, and that's really important when it comes to the perfect dating experience, but in the age of Tinder and Bumble, every dating app looks the same, and we would like to see a bit more originality.
Qeep Members
While Qeep is considered a younger, more modern dating service, it still has a fair share of members across all age groups. Sure, the majority of members are aged between 18 and 34, so expect young, cool singles. However, don't be afraid to take a peek if you're older. Qeep has members across the world, enabling people to make contact, regardless of where they live.
Qeep Sign Up Process
Don't expect to spend all day signing up at Qeep. If you want quick dating, then you'll get it here because you can join using Facebook and sign up in a matter of seconds. There is no email verification required, and that speeds up the process while members are only required to provide an email address, their birthdate and gender. Once this has been provided, they're ready to begin dating at Qeep.
Profile Quality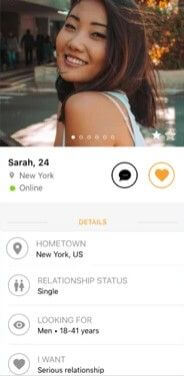 As a result of the quick registration process, you shouldn't expect detailed profiles at Qeep. This dating platform gives members the opportunity to begin dating quickly, which means that people are not focused on their profiles. This might not work in favour of the platform because singles are intrigued when meeting people, which means the more information they have, the better the dating experience.
So, profiles are available for you to look through, and you can add basic dating information, including age and appearance characteristics but don't get carried away if you're expecting more. Qeep aims to keep things simple, and it certainly does, but this service is all about getting people dating quickly instead of focusing on what members might actually want.
Communication at Qeep
Communication sits at the heart of any dating site, and Qeep might fall short when it comes to communication. To begin with, this dating site offers no search feature, which is highly unusual for any dating service. Furthermore, sending a message is not possible because messages become requests to chat, which might seem a little strange. Nonetheless, it does create an element of security for members.
Users can take advantage of the location-based feature, allowing them to meet up and begin chatting with local singles. What might also disappoint is the fact that members who have upgraded will only be able to send a maximum of three chat requests daily, which seems counterintuitive. All of this might work against the Qeep dating service.
Costs and Prices
Qeep has a range of prices and packages available for people seeking a tailored dating experience:
Qeep Plus
1 Month – £10.49 GBP / Month
3 Months – £7.33 GBP / Month
12 Months – £5.17 GBP / Month
Credits
300 Credits – £0.01 GBP / Credit
550 Credits – £0.01 GBP / Credit
2,500 Credits – £0.01 GBP / Credit
8,000 Credits – £0.01 GBP / Credit
Free Account
People can join Qeep for free dating should they wish; when they take advantage of this, they will get the following:
Ability to create a free account
Send a single request to chat each day
Get 25 likes for free each day
The app is free to download
Premium Account
Qeep also allows members to opt for fee-based dating, which means that they will get more from their experience. They will get the following:
Get five Super Likes
Check out who likes you
Undo swipes
Use match game
Ad-free
App & Mobile Version
If Qeep sounds like it might be for you, then you're in luck. This dating app is available across all platforms, which means you can use it on Android and Apple devices. Qeep is an app-only dating service, and that means that users can only use the features through the app.
It's designed well with intuitive features and something different for members. Whether you opt for free mode or premium mode, it provides a useful insight into modern dating, enabling Qeep members to make contact with each other. It's free to download, which is also a positive, ensuring members can experience a personal experience using this dating app. Qeep has 3-stars on the Google Play store and 4.5 stars on the App Store.
Privacy & Safety Features
Privacy might not be the order of the day at Qeep as members aren't required to verify their dating accounts. Sure, all data remains safely protected using encryption, but fake accounts still manage to find their way onto the dating service. However, there is support available should users require it while dating at Qeep.
Our Experience on Qeep
We believe that Qeep is a decent dating service. Sure, it doesn't rub shoulders with Tinder or Bumble, but it does hold its own. It has everything members could need when dating, and that's the main thing. It's intuitive, free to use and has plenty of members, which guarantees a great dating experience.
FAQ
How to pass Qeep photo verification?

There is no image verification available.
How to see who likes you on Qeep without paying?

This is not possible, so you will need to upgrade.
How to block someone on Qeep?

To achieve this, you will need to block their profile through their account.
About the reviewer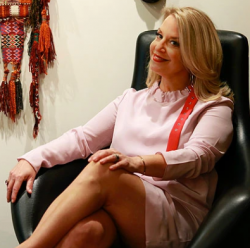 Latest posts by Dr. Berman
(see all)