This OurTimreview brings you the highs and lows of the senior dating service. We reviewed its membership, profile quality, communication channels, and the cost of being a premium member on the platform. We also list for you the pros and cons, giving you an idea of what to expect and what you might miss if you become a member.
Pros
Free registration
Interesting workshops and events for singles
A serious community that is also accessible
A great platform for senior singles
The design fits people who are over 50
Reasonable pricing
Simple and fast sign up process
14-day money back guarantee
3-day free trial
Cons
The events are a preserve of premium account holders
Premium memberships are automatically renewed
Cannot browse incognito on a free account
More tools are required
Free subscription does not allow send messages
The upgrades do not offer much additional benefits
Fake profiles
OurTime is an online dating platform that seeks to connect singles that are over 50 years of age. The dating service, operated and owned by Match Group, is fairly new in the UK online dating scene. Within the few duration of operation in the UK, it has already gained 150,000 active users, as of June 2020. The platform has over 2 million registered members.
OurTime UK should not be confused with its US counterpart that goes with the same name of OurTime, although both platforms serve the same audience – senior singles. You should therefore be keen when reading Our Time dating reviews. Domain.com has all necessary information to help you. This review is for the UK dating site.
OurTime Interface
Because it was created for older singles, OurTime dating site has an interface that is straightforward, intuitive, and easy to use. You will find all the special features on the main header menu. Key details of people on the site, such as their names are in big and bold letters. The menu tabs are also big and bolded.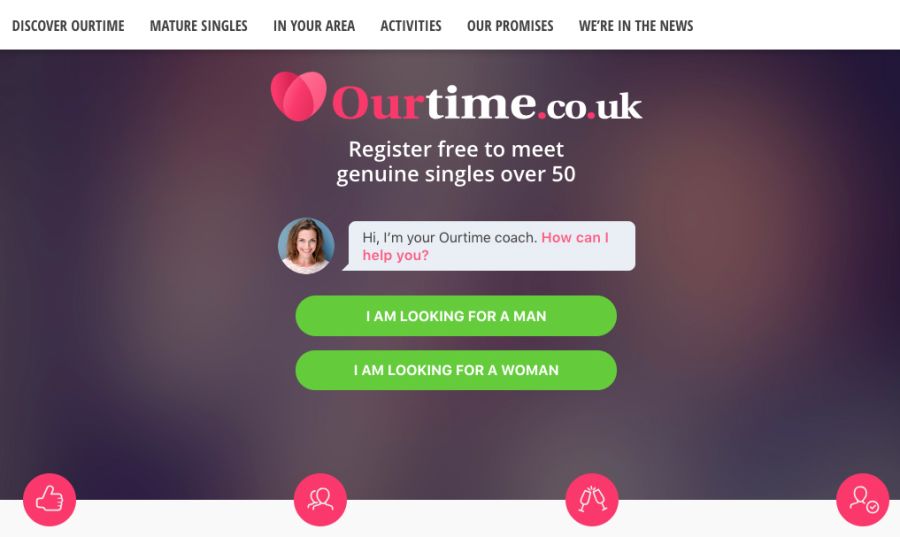 Overall, the website's minimalist design is attractive. Member accounts are organised into a box for easy reading.
OurTime Members
You have to be 50 or older to join OurTime UK. A majority of the people on the platform live in the UK, and some live in nearby countries like Ireland and France. If your Internet Server does not come from any of these countries, it might be impossible to sign up for an account on this website. Perhaps this limits the number of people from other areas who might be interested to meet and date older singles from the UK. The US counterpart serves all other countries.
A majority of persons at Our Time dating agency are either divorcees or singles looking for partners. You will therefore find out that most of the people are serious about what they are looking for, and they take their time to fill the detail information. Most of the members also attend events called 'Activities'. Domain.com has gathered all useful information in the latest review of this dating site.
Count of Users
There are over 2 million members at OurTime, UK. This user base is large enough for the senior singles on the platform to find the type of person they are looking for. Most of the people on the platform are active and are either looking for friends or long-term partners.
Profiles Quality
The registration process involves asking questions, some of which may not be necessary for people who are just looking for friends. There is also something they call 'OurTime Coach' that guides you through the sign up process. They also have gay share, which may not be appropriate for heterosexuals seeking heterosexuals and who may prefer a dating platform that is strictly for heterosexuals or straight people.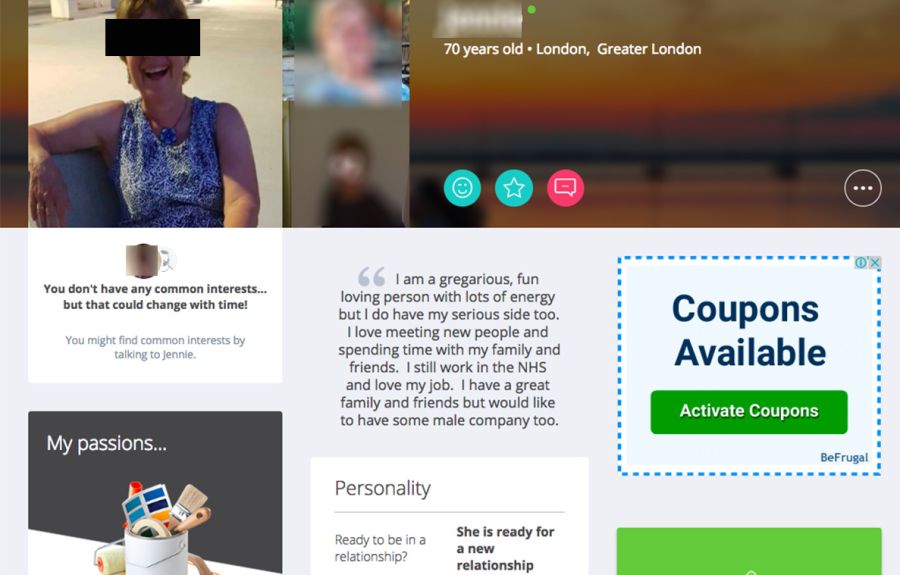 Once you have created an account and have been accepted, you can log in and complete your profile. OurTime sign in page is simple and straightforward, and you just need to put up the required credentials to access the platform.
You may want to think that with the number of questions asked during profile making, OurTime has detailed profiles. However, that is not the case for some people because the questions about personal information are optional to answer. And although you can see the profiles and like someone you'd be interested to interact with, you can only exchange unlimited messages with them if you upgrade your account.
Communication
As a standard member at OurTime dating service, you can send winks, use the 'Blendr' feature, and add people to your favourite lists. These three actions will be your only means of interactions on the platform. Only paid subscribers can send messages. And although sending winks and the Blendr feature are free, you will not be able to see if you ever got mutual winks and likes if you are on the standard account.
You can use the available filtering tools to access and communicate with people who fit your taste or preference. You can apply filters like age, distance to your location, habits, pictures, etc.
Costs and Prices
Premium packages at OurTime are distributed in three durations – 1 month, 3 months, and 6 months. The one month plan costs 39.99 GBP. The 3 months premium membership will cost you 74.97 GBP or 24.99 GBP per month. The most affordable is the 6 months plan that costs 19.99 GBP per month and you will pay a total of 119.94 GBP.
There is also a separate payment if you only want to browse incognito, and that will cost you 9.99 GBP per month. You can also browse incognito for 1.99 GBP a day. You can make payments for the subscriptions through PayPal, Direct Debit, or through your Credit Card. There is a three days free trial period you can take to test features on a premium account.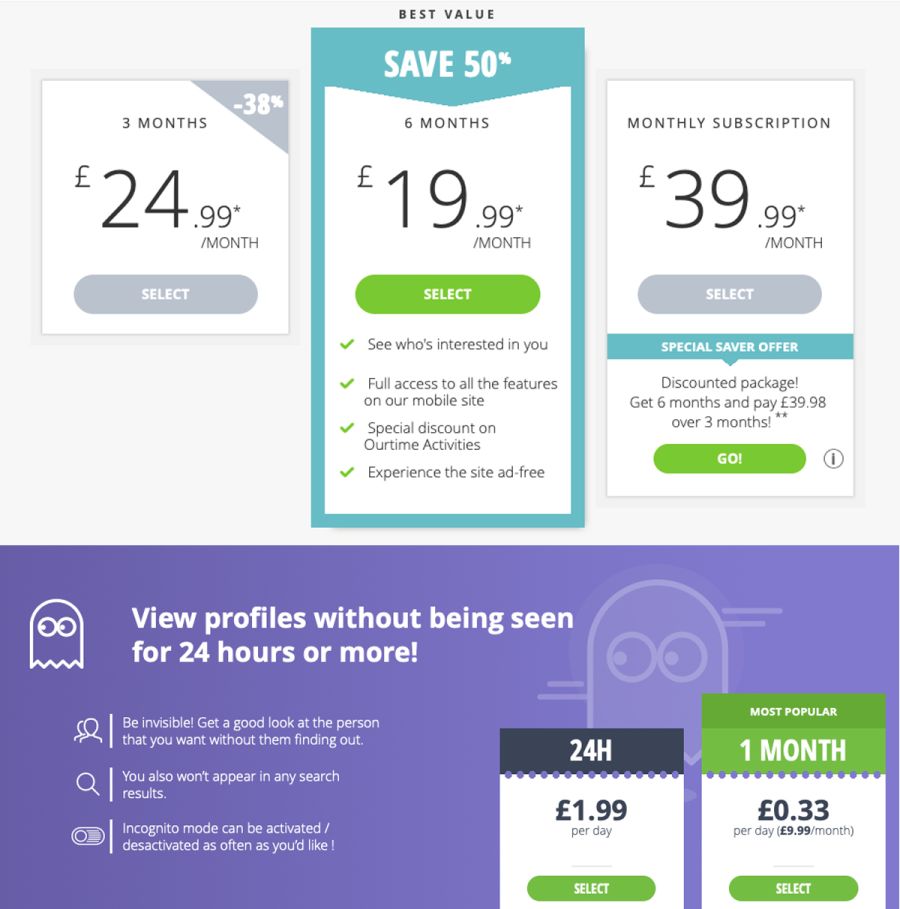 As seen from the screenshot above, OurTime offers special prices for some packages. Some offers will give you up to 50 percent off your subscription. However, even if you initially purchase your subscription at a discounted rate, you will be charged normal rates when the subscription is renewed.
You are also notified that the subscriptions are automatically renewed at the end of the payment cycle or period. You should therefore always switch off auto renew to avoid the automatic renewals.
People who want to cancel the auto renewals must wait for 24 hours. You can then go to the 'My Account' page, go to account settings, and click 'suspend your account'. You will still be able to access the premium membership options or privileges until the end of the payment cycle.
Free Account
The standard or free account gives you limited options on the website. Some of the things you can do on the standard account include sending winks, creating your profile, searching other users, add people to your favourites list, and use the 'Blendr' feature. You will not be able to send unlimited messages on this account.
Premium Account
Paying for an upgrade at OurTime enhances your user experience because you will be able to browse without Ads popping up. A paid account also lets you see detail information of others and see who is interested in you. You will also get a discount for the Activities organised by OurTime if you are on a premium account.
App & Mobile Version
OurTime did not have an application for quite some time. It is currently available on both Apple App Store and Google Play Store. People who are in the UK can download OurTime dating app for free. The mobile app has a simple layout, just like the website. The inviting colour theme makes it a major attraction for users.
The mobile app has all the features available on the desktop website. Because a mobile is more convenient and easy to reach, most people prefer to use the app. It gives you the privilege of chatting anytime, anywhere. Let's have a look at the features you can access both on the application and website.
Blendr is one of the popular features on the platform, available to both standard and premium members. The feature displays 100 profiles per day to members, and you can either click 'Yes' or 'No' to express interest or lack of interest. A person you click 'Yes' to will be added to your favourites list. Playing this game is more fun on the app than on the website.
Another great feature is boost, which boosts your profile in search results. You have to buy the boosts. One boost goes for 1.99 GBP, 5 are sold at 7.95 GBP, and you can get 10 boosts at 11.89 GBP. You can also browse incognito if you pay for the service. Private browsing means the other person won't know that you checked their profile. In addition, you will not be accessible in other people's search results.
Members of OurTime can also access Affiny, which is OurTime's partner site. There is a tab for 'Affiny' on the main header and when you click on it, the system directs you to Affiny's sign up page.
Privacy & Safety Features
The website has published policies and guidelines that are strictly moderated and enforced by the administrators. However, this is not enough because there are still reports of being contacted by scammers and people with fake accounts. The company needs to enhance their security features especially considering that this is a dating site for seniors.
Our Experience on OurTime.com
"I registered with OurTime a few months and everything went good. However, things turned upside down when some people I was chatting with appeared to be fake. The 100 people per day you like through the roulette feature turn out to be either perverts or scammers. That matching system is also weak because they were matching me with people I would not wish to date, like smokers."
The Bottom Line & Rating
OurTime dating site is a nice platform for meeting singles that are over 50 years. However, the website has been infiltrated by scammers who are targeting subscribers on the website who appear to be rich or desperate. The company needs to put stricter measures to weed off the scammers and make the platform more attractive to older singles. We give it a rating of 2.5/5.
FAQ
What is OurTime?

This is an online dating site for older singles. Anyone who is 50 or older can join the service.
Is OurTime Free?

You don't have to pay anything to register at OurTime, and you can use the standard account that is free. You can pay and upgrade your account to premium membership.
Is OurTime Dating Site Any Good?

The website is good for seniors. However, you will have to take extra caution to avoid scammers on the platform.
About the reviewer: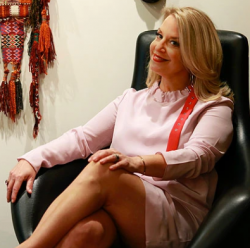 Latest posts by Dr. Berman
(see all)