Pros
Great for nudists
Been going since 2001
A place for nudist dating
There's a mobile version
Free accounts can request to see private media
Free accounts can also use 'lets meet.'
Not exploitive or pornographic
Cons
Only for nudists
Limited numbers on site
Not many younger members
Not everyone interested in dating
Free accounts can't initiate conversation
There's no app
The site doesn't look good
Not so much for people who have a kink for nudity, Nudistfriends is more for people who struggle to find other nudists to connect with in day-to-day life. This acts as a safe place for nudists to get to know their local community. It's almost 50/50 in terms of gender.
First Impressions
Our first impression is that this site is full of very outgoing people who are still active daily, despite this dating site being slightly dated. On Nudistfriends dating, free members can view members' non-private accounts and view uncensored photos for free. Unusual for a dating site but fitting for a nudist page.
Nudistfriends Interface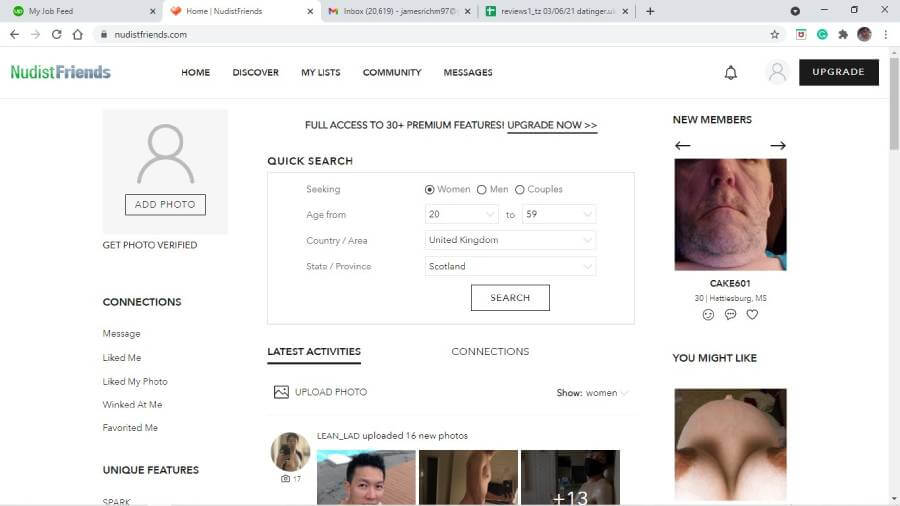 The interface is very basic, which makes it easy to use for all. It's easy to search from the home screen the type of nudists you are looking for, as well as viewing your messages, your winks, likes, and favorites. There are also suggestions from all over the world visible.
Nudistfriends Members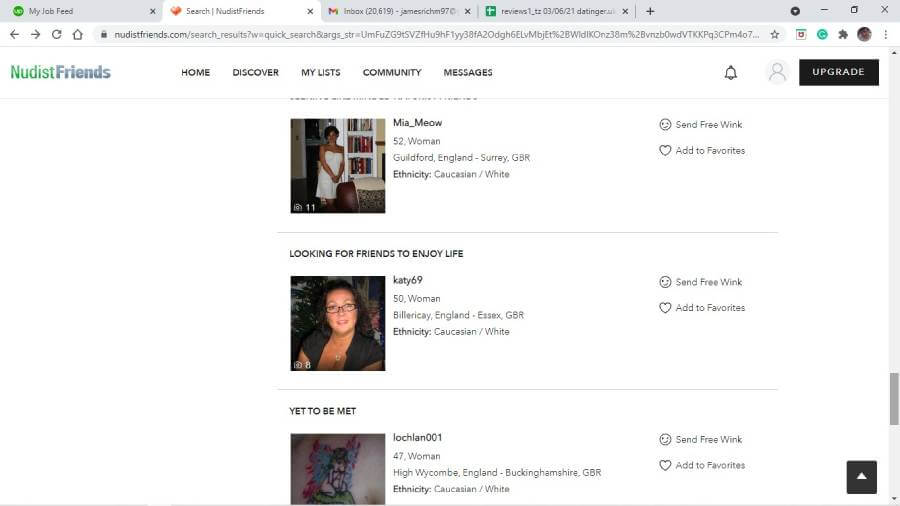 There are many outgoing members on this dating site looking to start chatting on Nudistfriends and potentially start dating. There's a lot of straight members, a few gay, and a couple of trans members. People are happy to chat, but all aren't looking to start dating. Most are looking for naturist friendships.
Nudistfriends Sign Up/Login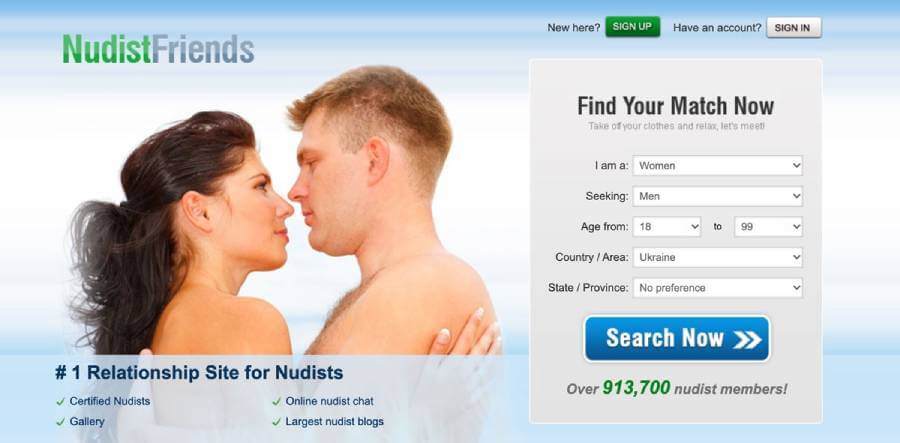 The sign-up page appears to be a little cheesy, but the site is legit. You can fill out all the details and get your profile up and running for free! You can either do this section manually, or you can use Facebook to sign in. Facebook doesn't post from the Nudistfriends dating site.
Profile Quality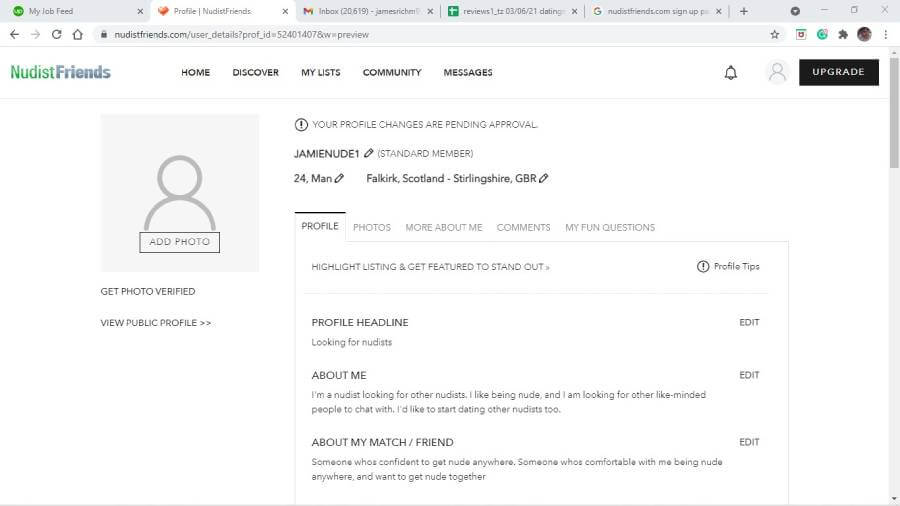 The initial stage of the sign-up process on Nudistfriends dating is straightforward and made even easier when you can sign in using Facebook. The second stage of filling out your Nudistfriends dating profile is a little trickier and requires you to think about how you come across the Nudistfriend community.
You must first think of a witty Nudistfriends header – a catchy one-liner that'll capture the imagination of other members on the site. Then, you have to fill out a bio, which has a 50-character minimum word count. Here, you'll have to formally introduce yourself to the Nudistfriends community and explain why you're into nudity.
After that, you have to fill out what you are looking for in the 'about my match/friend' section. This also must be 50 characters minimum. Here, you'll explain your ideal Nudistfriends match.
After completion, the dating profile appears neat and informative to other users.
Nudistfriends Communication
It's clear that most of the leading dating profiles on Nudistfriends are legit, as they upload authentic nude photos of themselves, and in messenger, appear to be legit. The site has good security, so we don't see why there should be a worry about receiving messages from fake accounts.
On the other hand, many profiles do not have any photos, particularly when you do more specific regional searches. This may be to stay incognito when on Nudistfriends dating, but it is a bit suspicious. There are more profiles without photos than with. This may put a few off using the site or uploading photos themselves if not everyone is doing it.
Communication isn't available for free accounts; however, free accounts can receive and respond to messages from premium members of Nudistfriends dating. Free accounts can also send winks.
Nudistfriends Costs and Prices
The free account is worth trying out, but you're likely to get hit with numerous ads from the site telling you to pay for a subscription, particularly when viewing photos or profiles in general. Nudistfriends is one of the best dating sites in terms of free accessibility. However, there will come the point when you want to experience the site to the max!
Here are the current prices for a premium account on the site.
1 month – $1.00 per day (offered as 1 payment of $29.95, which saves you 25%)
3 months – $19.95 per month (offered as 1 payment of $59.95, which saves you 50%)
6 months – $15.95 per month (offered as 1 payment of $95.95, which saves you 60%)
We'd recommend you try the free account first, but if you like what you see, give the 1-month subscription a go. $1.00 per day for great Nudistfriends dating content isn't that much!
Free Account
With a free Nudistfriends dating account, you can register yourself, become an official 'nudist' on the site, and start searching through profiles. Free accounts are really good on Nudistfriends and worth trying out! What other dating site lets you see explicit photos without paying anything? You also get to respond to messages.
Premium Account
Premium Nudistfriends dating sites let you view unlimited content on profiles, and lets you message whoever you want, whenever you want, and for however long you want. Nudistfriends premium also lets you experience more optimized searches, explore the 'certified nudists' section, and become highly listed on other nudist's searches.
App and Mobile Version
Unfortunately, there is no app version of Nudistfriends dating. However, we'd say that it suits being exclusively on the web. Plus, most of its users are old, as it isn't very popular with younger people.
There is a mobile version, which gives you access to everything the browser edition does. This allows you to search for Nudistfriends when you're on the move and organize dating plans while in transit. Some would argue that the mobile version is more straightforward than how the site appears on your laptop, as things are more concise, and the site generally appears easier to use.
Privacy and Safety Features
Nudistfriends promise that no data gets shared anywhere else. Premium users can hide their profiles totally if they want their data withheld for a time, and free users can choose to delete whatever they like. Users can choose not to post anything at all and only view other people's content.
Our Experience on Nudistfriends
As a dating site, Nudist friends may not be the best. Nudistfriends is the best at offering free accounts plenty of access to the site, however. We found Nudistfriends but would only recommend them to serious nudists, as the community may not respect people who are coming for dating purposes solely.
FAQ
Do Your Photos Need to Be Verified on Nudistfriends Dating?

Your content will be checked by a moderator and will be uploaded once approved. Nudity is, of course, allowed, but if your picture is overly explicit or pornographic, it will be rejected.
Can You See Who Likes You with a Free Nudistfriends Account?

Yes, other accounts can initiate a conversation with you, even if you've only got a free Nudistfriends dating account.
Is it Possible to Block Accounts on Nudistfriends Dating?

On Nudistfriends dating, you can choose to block or hide any profile by visiting their profile and selecting 'block' or 'hide' from the drop-down menu.
About the reviewer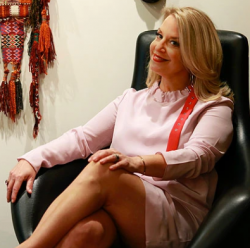 Latest posts by Dr. Berman
(see all)