This in-depth Match review brings you the highs and lows of Match as a dating site. We describe the interface, structure of membership, safety features, and what you get on the free and premium account. We also tell you about the pros and cons of being a Match member.
Pros
Get daily personalised match suggestions
A large, global, and diverse user base
Several search tools
Customer care available from Monday to Friday, by email and phone
Members can attend local Match events
Multiple ways of showing interest to other people
More success stories than any dating site
Cons
Searching through all choices can be time-consuming
Only subscribers for a fee can use privacy mode
You have to be a paid member to send or read texts
You have to pay to see who has viewed your account
You can't tell if a member is a subscriber or not
Membership is a bit expensive
You have to wait to get your account approved before using the website
Lengthy online to offline process
Match.com: In-depth Review Details
Restricted Countries:
United Kingdom
United States
Match is one of the oldest dating sites around, if not the oldest. Launched in April 1995, the service has been matching people for 25 years now, and still going. These many years have earned the website a great reputation in the industry. But like any other dating platform, Match is not without its flows. Match UK is one of the Match.com dating sites, and it is designed to serve singles in the region.
Available both as a desktop website and a mobile application, the dating service has been able to register millions of users across the world. This large user base means that it is easier to find a match on the website. However, some of the profiles are fake, and there are scammers and fraudsters as well, something that is becoming common in most dating sites.
Match Interface
Match has a well-designed homepage. Compared to other dating sites, Match shows you one match at a time. You will therefore not be bungled with several notifications instantaneously. The clean and organised interface makes everything easy for the users. Beware though, there are a few Ads which can be distracting and annoying.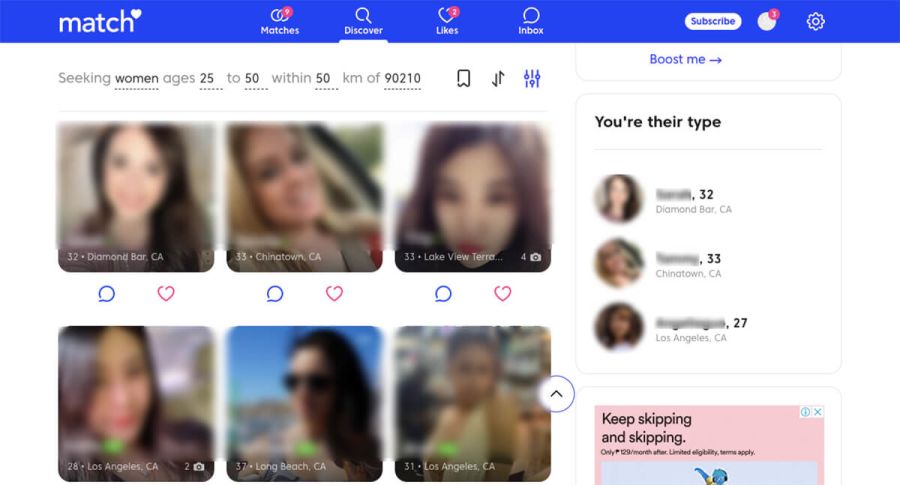 Match Members
Most Match.com reviews show that more than 50 percent of users on Match reside in the United States. The gender distribution on the platform is proportional, creating an almost equal balance and therefore no over or under supply of a specific gender. All age groups are represented on the website. However, the majority are below 55.
As a member of the dating platform, you will have to disclose your current relationship status. You therefore have to indicate whether you are divorced, separated, or never married. If you are in a relationship, there will be no option for you because this dating website does not encourage third-party relationships. Due to this provision, there are many individuals on Match who lie that they are single yet while they are either married or have a partner. You may think that you have found the perfect guy for a long-term relationship, only to realise down the line that he/she is married.
Count of Users
Several Match dating site reviews show that Match UK has 1,300,000 members. This indicates a significant percentage of membership from the United Kingdom. This Match.com review UK found that a majority of the users on the platform are here with their serious intentions. There is high member activity on the platform, and you will always find somebody who is online and ready to chat. However, please bear in mind that you have to pay to contact them.
Profile Quality
Although the profiles at the website are detailed, you will have to pay a bit of a price to enjoy communication with any member that piques your interest. Account creation starts during registration. You will be taken to a profile builder where you fill details about your height, marital status, body build, etc.
You will have to compose a short paragraph telling people about yourself in the 'About Me' section. We wonder, however, if the 100 characters limit provided is enough to appropriately describe yourself. Furthermore, there is no email verification after signing up.
Overall, Match does not have a verification system, although they claim that there are few fake profiles on the platform compared to other sites. Well, the best way to ensure an account is real is to verify it. Scammers and fraudsters can still pay for membership with the expectation of reaping some subscribers on the platform.
One of the bizarre requirements is the need to upload a profile photo. Although this is ideal for letting the others see your face, the dating service does not approve the photos. This means the photos of other users you will be seeing are also not approved.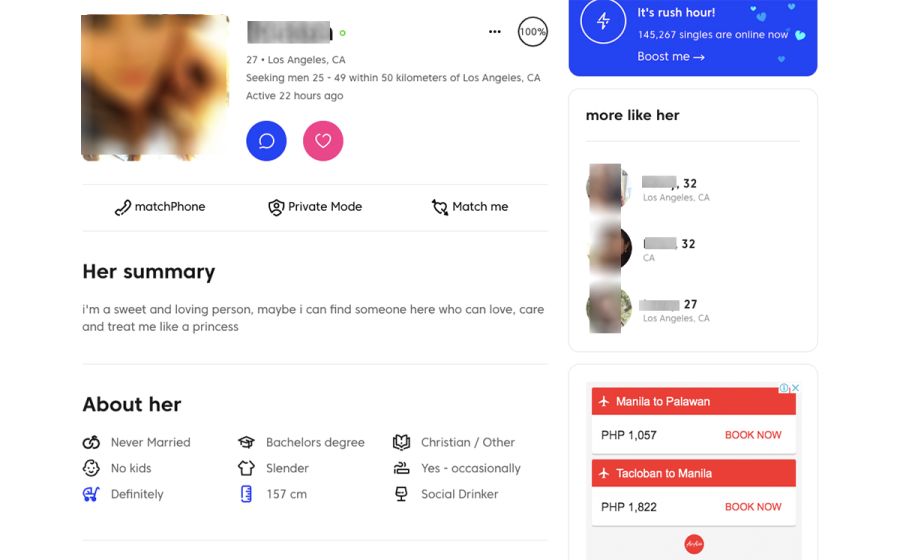 Communication
The Match system presents you with individuals that could be your match. You can either like them by clicking the 'Like' button or skip them. If you like them, your match will also receive a notification and will also be put on your 'Likes' list. If you decide to skip, the system brings you another possible match for you.
Our Match.com review UK also shows that the platform has a search function with extensive search filters. The name of the search function is 'Discover', and the filters of the function include interests, age, location, lifestyle, and personal information. You can also use keywords for searching.
Account holders for a fee have additional communication channels through MatchMe and MatchPhone. MatchMe makes it possible for you to appear first on suggested profiles on another person's 'Matches' feature.
MatchPhone is a feature that allows you to call other users through a custom number provided by Match. This feature lets the two of you talk anonymously. It gives you the confidence for free talk because the line is not monitored.
Costs and Prices
There are three subscription options for Match, depending on your preferred subscription period. The one month subscription goes for 29.99 GBP. There is a 3 months subscription that goes for 19.99 GBP per month and 59.97 GBP in total. There is also the 6 months subscription for 29.99 GBP per month or 59.94 GBP in total. Match.com cost is cheaper for the website version compared to what you would pay for the application.
Free Account
The free subscription allows you to do the basic minimum on Match. Some of the services that are free include registration, profile creation, viewing accounts, receive SingledOut matches, and browse on member search. You will also be able to take part in matchmaking games and send likes under the free account.
There are lots of features offered by the platform that you will not get to enjoy if you are still under the free account. Upgrading your membership will not only unlock these features for you, you will also have a better user experience.
Premium Account
Match.com reviews show that the service has some of the best offers on its premium membership. A premium membership gives you the privilege of freely interacting with others by sending and receiving messages, which is not possible for free account holders. When you send emails, you will also get notifications when the emails are read.
A premium account also enables you to grab a spot in daily matches. MatchPhone, the great feature that allows you to anonymously call others, is also a preserve of paid subscribers. Other goodies that come with a premium account include Instant Messenger, anonymous browsing, and ability to see who has viewed your account.

App & Mobile Version
There is a Match application which is available for both iOs and Android users. The app is light—doesn't need large space on your mobile – and is free to download on the two operating systems. The application has all features available on the desktop website and also functions in a similar way.
The only marked distinction between the application and the website is the first one's convenience and ease of use. Match app reviews reveal that the application has good usability and easier navigation, therefore boosting the user experience when using your mobile phone. A good example is when you are using the MatchPhone feature, which would be much easier and better through the application than through the website.
The fact that you can carry your phone anywhere means that the application lets you access Match from anywhere. The clean and straightforward user interface makes it easier and faster to browse and interact with others. Contacting features are located at the bottom of the screen as icon tabs. In addition, there are icons on member profiles that you can click when you want to contact them.
The subscription fees for the mobile application are offered in four packages and the prices are charged in USD. The one month Premium subscription will cost you $44.99. The 3 months Premium account goes for $119.97, and the 6 months Premium membership will cost you $149.94. There is also a 6 months Standard subscription that goes for $137.94. These application subscription fees are three times more than what you would pay for website subscription fees.
Privacy & Safety Features
We have already indicated to you that Match does not verify the applicants. The company uses the payment system to weed off scammers and fake profiles. However, a few malicious characters manage to go through the system and try to scam others.
You are required to take personal precautions when using the dating website in order to avoid scammers or fraudsters on the platform. You are 100 percent responsible for your safety when using Match.
Our Experience on Match.com
"Match appeared to be a great dating site at first, especially because of the large numbers. The high numbers meant that it was easy for me to get a match. However, I found it to be expensive. I have to pay to send and receive messages!"
The Bottom Line & Rating
Match would have been a great dating website if it would let users communicate for free. To fully enjoy Match.com dating, you have to pay. They should also start employing a thorough verification system to minimise the number of scammers on the platform. We give it a rating of 3/5.
FAQ
Does Match.com Work?

Whether it works or not will depend on what you are looking for. If you are looking for hook-ups, this is not the website for you.
Is Match.com Free?

Match has both free and premium membership.
Is Match.com good?

As long as you can afford the fees, you will enjoy using Match.
About the reviewer: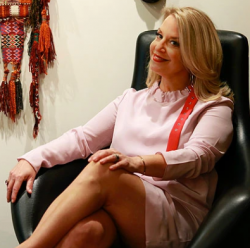 Latest posts by Dr. Berman
(see all)