Pros
Inclusive dating site
Males dominate, but only slightly
Great for a chat
100,000 members online for a chat every week
Good for long-distance dating
Good for short-distance dating
You don't need to register for the free version
Cons
Not the busiest dating and chat site
Only for Android
A big fake profile problem
Need to pay to search for specific dating profiles
Can't private chat on the free account
No necessary to upload photos
Not well monitored
The vast majority of Chatiw members are looking for a casual chat as well as dating. This dating and chat site consists of mostly male members within the age bracket of 24-35 and is predominantly straight. This site is inclusive of the LGBTQ community and other sexual preferences, such as BBW.
First Impressions
Our first impression of this dating and chat site is how easy it is to set up. No verification was required whatsoever, and you can get right to the chat and dating side of things. The dating site lags a bit but doesn't take too long. We were surprised to get chat messages instantly, which is a plus.
Chatiw Interface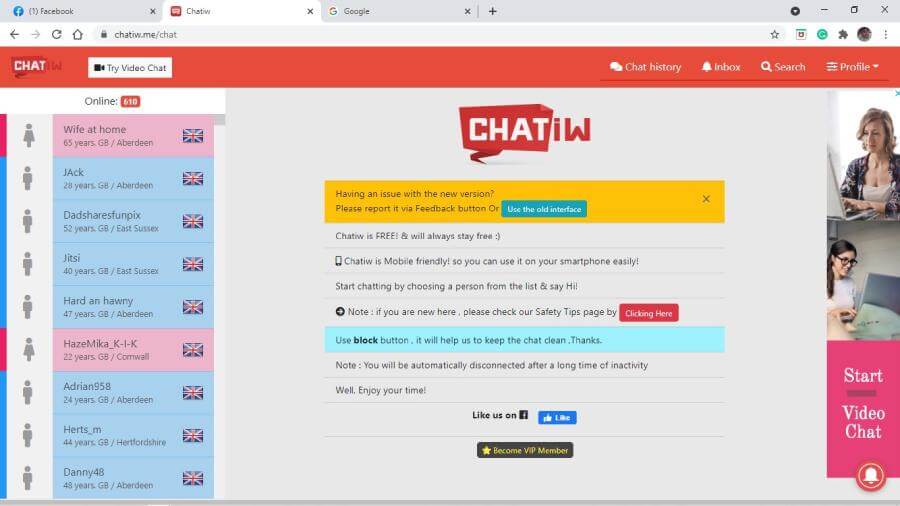 This dating and chat site interface is old, but if something isn't broken, why fix it? It's worked for Chatiw this far. Plus, as far as chat and dating sites go, you don't need much else than an inbox and a list of members currently online. If you don't like it, you can change the interface by hitting the bar at the top.
Chatiw Members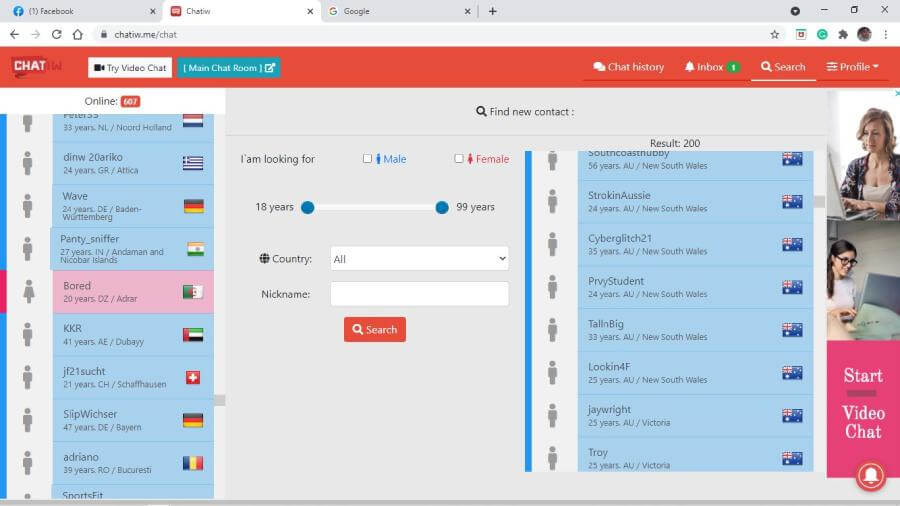 The members of the site are all down for a chat. Whether or not that leads to dating depends on how well you play your cards! Some users have pretty clean titles, just their nicknames, whereas others have more sexual leaning nicknames. You'll be able to predict conversation based on nicknames.
Chatiw Sign Up/Login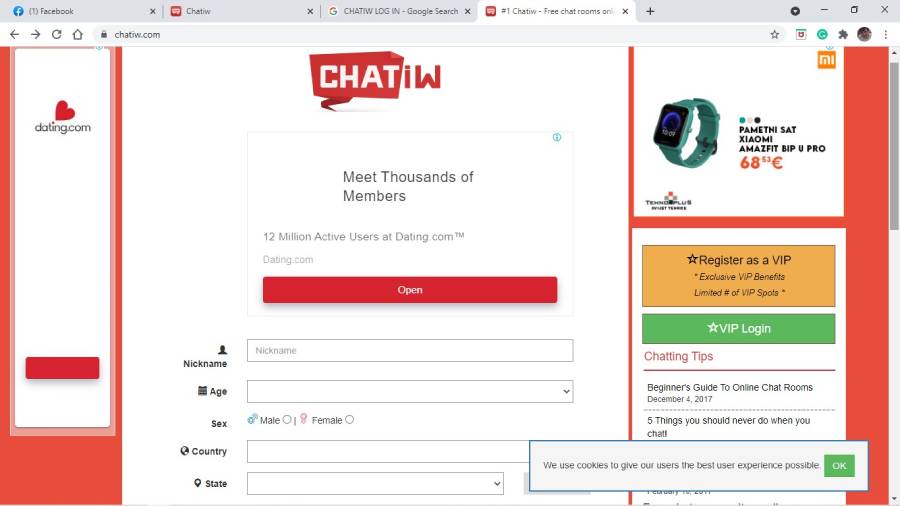 The log-in section to Chatiw dating is one of the easiest log-in sections for a dating and chat site. No verification is required whatsoever, and you can start chatting without even leaving the page. There is no additional information required besides age, sex, country, and state. You need to choose a chat nickname too.
Profiles Quality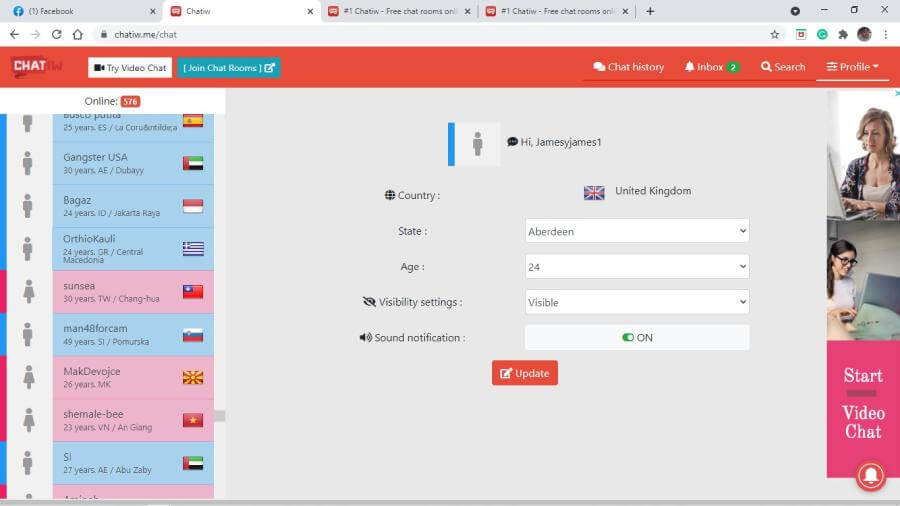 After filling out your details, your generic profile is created and features all the information you filled out. This includes age, state, and country. A small flag of your country of residence will be displayed on your profile too. You can change these settings at any time.
Given how easy the sign-up process, it's difficult to pick out any drawbacks of the sign-up/log-in process, as it appears to be all pretty straightforward. The only pitfall of the sign-up process is how empty it is. There's no way to make your profile stand out against all the other users.
Despite this, given the amount of time you save filling out a Chatiw profile, you can't complain at all. It's a fraction of the time that you'd spend on such sites as Zoosk.
The lack of info featured on the dating profile also helps keep this site safe and secure.
Communication
Communication on the site is pretty flexible, even for free users of the Chatiw dating site. You can chat with pretty much anyone you like, with no additional costs. We received several random messages within minutes of signing up, so other free accounts also obviously take advantage of this privilege.
There is no matchmaking process you need to go through first. All you do is select a profile from the list of online profiles you'll see on the left side of the screen. Once you click on a name, a chat bubble will show up, where you can start the chat- which may lead to dating!
You can send pretty much anything you want on this dating site for free. This includes text, emojis, and even pictures. The pictures we sent were clear and sent immediately. The chat service appears to work fast.
The only thing you can't do, chat-wise, is starting a video call – this is reserved for premium dating members.
Costs and Prices
You'll find a tab at the bottom of your page that says, 'become a VIP member.' Click this, and it'll lead you to a new log-in/sign-up page. To become a premium dating member and optimize your chat, you must fill out this additional section.
It asks you to come up with a new username and password, and this time it requires your e-mail for verification. The premium accounts are a bit more secure from bots, and it shows during this sign-up process.
Prices for VIP membership:
1 month – $4.95
6 months – $25.95 (Save 10%)
1 year – $49.45 (Save 15%)
Lifetime – $99.95
If you love the site, we'd recommend you get the Lifetime package, as it saves you the most, particularly if you're planning on using the dating and chat site regularly in years to come.
Free Account
With a free account, you can message whoever you want. You can also send emojis and clear images. You don't need to go through any sort of matchmaking process, as you can strike up a chat with anyone you fancy that is online when you are. You can also set up and edit your profile for free.
Premium Account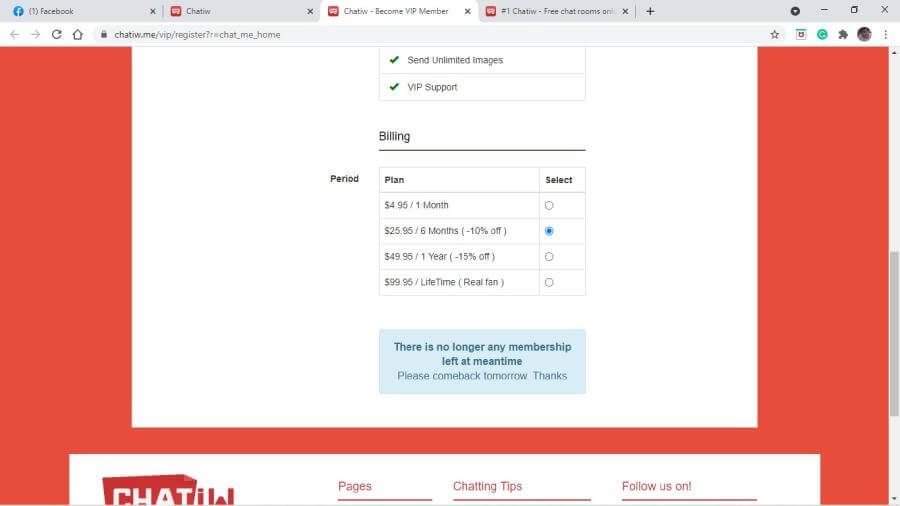 With a VIP membership, you get to experience all the free benefits, with much more added plus points.
The plus points include:
No ads
Saving your nickname
24/7 VIP support
Send more images
VIP badge
The authority to ban other users
Ability to share your phone number and internet links
App & Mobile Version
Unfortunately, the Chatiw mobile app is only available to Android users, so don't search for it on the App Store. The Chatiw app version seems to get a lot more praise than the website edition. It holds a score of 3.6 stars on the Play Store, with most ratings being 5 stars.
Positive reviews cite the lack of ads on premium accounts and its ability to hold the long-term chat. A lot of people praise how much better it looks on the phone than on the laptop.
Negative reviews criticize the app's speed, as well as the number of bots they've come across.
The mobile version works on both Apple and Android products.
Privacy and Safety Features
The platform can be very private as you do not have to upload a profile picture at any time. Plus, it keeps your data to a minimum. There is little threat of this information getting leaked. The dating platform has several bots, but these issues can be resolved by blocking or requesting banning.
Our Experience on Chatiw
Firstly, we're impressed by how much there is to do with a free account. It's a great place to begin if you're just looking for a place to chat without it costing you lots. You can easily chat with others and potentially start dating other members. The premium is good, but the free is good enough.
FAQ
Is it Easy to Pass the Photo Verification Process on the Dating and Chat Site Chatiw?

The dating site Chatiw features little in the way of photo verification. You can upload whatever you want, and if it's not explicit, it will be approved. It's very easy to pass the photo verification.
Can You Tell if an Account is Interested in You with a Free Chatiw Dating Account?

Yes, it's easy to tell. If you message them and message you, they are probably interested in a chat or potentially dating.
Is it Easy to Block Other Members on the Chatiw Dating Site?

In the chat room, you'll find a report/block button. Use this if you don't want a member to chat with you or think they are inappropriate!
About the reviewer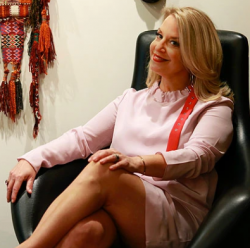 Latest posts by Dr. Berman
(see all)