Pros
Easy to join
Quick to interact
Easy way to meet people
Video chat is available
Simple design
Thousands of active members
Old-school internet dating
Cons
Fake accounts
No verification
Lack of support
Identity of users is not required
Lacks dating direction
Too many users wasting time
Design is lacking
With just shy of 20 rooms, Chat Avenue is a dating platform that's a little long in the tooth! It's been around almost since the internet was invented, but it provides users with a wealth of chat rooms to explore that cover all genres. You want a simple, flirty action? Then you might want to look at using Chat Avenue for your next dating adventure.
First Impression
There's no denying that Chat Avenue is not your usual dating platform. It's nothing more than a collection of rooms which is great for making contact with many people. It's not a refined dating platform like others out there, but it's simple to use, which will please people looking for an easy route into online dating and meeting new singles.
Chat Avenue Interface
If you're expecting sophistication at Chat Avenue, then you might want to amend your expectations. This platform isn't about class or style; it's a simple melting pot of singles who love communicating. Therefore, the design of Chat Avenue is extremely simple, which ensures members can get flirting with ease. However, don't get too excited about the interface because it's about as basic as it can get.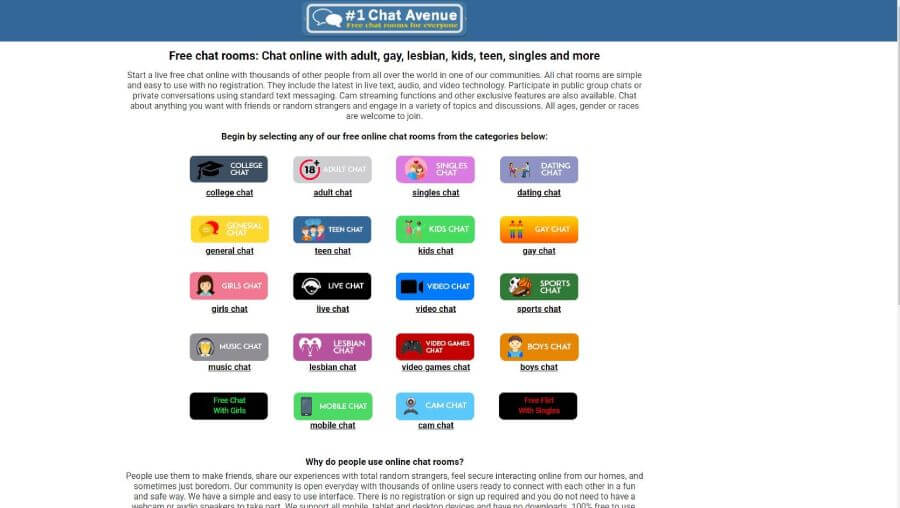 Chat Avenue Members
Once we started using Chat Avenue, we recognised that this is a varied dating platform. It's about bringing people together based around interests which means you'll discover a variety of members dating from across all age groups. Users will need to be over 18 to begin dating here while it boasts more than 5,000 visits each month, so it's a platform designed for making contact.
Chat Avenue Sign Up Process
Unlike other dating sites that require a long-winded registration process, Chat Avenue does things differently. We thought the days of open chat rooms were long gone and just a thing of the internet past circa 1999. The process of joining couldn't be easier, and users are required to provide a username and password. They're required to provide their gender and age as well as an email address, and then they're ready to rock the world of online chat and dating.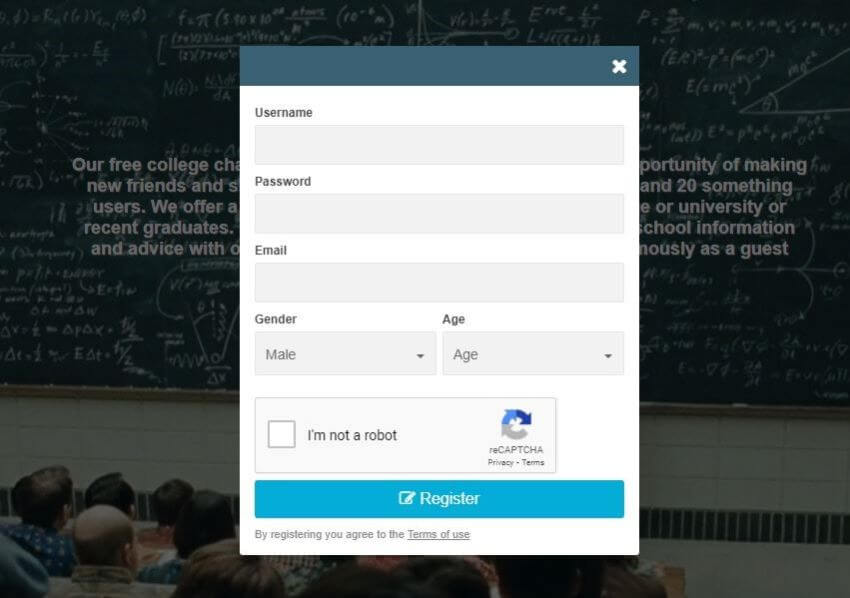 Profiles Quality
Fortunately, there is some kind of profile feature at Chat Avenue. When users decide to register, they will be required to provide information, much like other dating platforms. However, this is a different form of online dating which means that your profile is not going to be as detailed as you might like or expect. In a nutshell, the profiles will contain some standard information, including gender, country, status and a small section about the user, but that's as far as it goes.
The other thing to consider is the fact that Chat Avenue doesn't require all users to register so that useful profile information is not always readily available should you want to message someone. It's possible to join as a guest, which can mean a lack of personal information and guest accounts that could belong to absolutely anyone!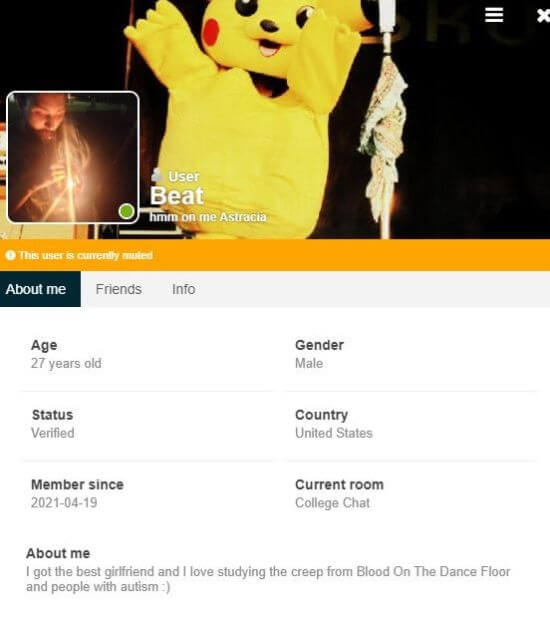 Communication at Chat Avenue
Communication sits at the heart of Chat Avenue, giving users the opportunity to explore a new way of dating – new for anyone born after 2000, it is. This is purely a chatting site which means that users are there to use Chat Avenue as a vehicle for meeting individuals. There's no surprise that there's an abundance of rooms on offer – 19 in total, so there is always plenty of discussions and flirting taking place. The rooms are an open environment where everyone can communicate freely, and the rooms have themes so that guides users when flirting and dating online.
Should you choose to take things further with a member, then you can opt for private messaging, enabling you to communicate outside of the rooms. This still makes it possible to experience dating online, even if this isn't a bona fide dating platform! Naturally, you'll want to make sure that you remain vigilant as there are plenty of fake accounts here while the site is frequented by people of all ages, making it a versatile dating platform in every way.
Costs and Prices
What will please people who are seeking easy and free dating online is that this platform is completely free. As a result, users won't have to part with a penny when signing up and joining Chat Avenue.
Free Account
The free account comes with the following features:
Create an account
Use as a guest
Access a variety of chat rooms
Change profile avatar
Create a friend list
Private messaging
Use whispers
Premium Account
There is no premium account available as the site is completely free to use.
App & Mobile Version
You might not want to tie yourself to a desktop when dating at Chat Avenue, and that's fine because there is an app available. This enables you to explore the features on offer from your smart device. So, you can download the app from Google Play only, which means that Apple users will need to stick with the mobile version. You can expect the same functionality as the desktop version, which means plenty of dating rooms to explore and the same old friendly members too! So, you can use Chat Avenue on the move, and the app is pretty nifty, so it's worth trying out!
Privacy & Safety Features
The one thing that really disappoints with this dating platform is that Chat Avenue lacks any real safety. Sure, your data might be encrypted, but there is no safe mode that other dating platforms offer. Furthermore, Chat Avenue does offer an FAQ and a contact section which means there is some element of support. However, users can use this Chat Avenue as a guest, which doesn't make it particularly safe, especially when compared to other services.
Our Experience on Chat Avenue
Chat Avenue is a good throwback to the days of meeting people online outside of dating platforms. It's simple to use and enables members to make contact, but that's as far as it goes. The design is good, dating is simple, and Chat Avenue is all about bringing people together. Overall, it's worth looking at this as a site for casual dating as opposed to real online dating.
FAQ
How to pass chat avenue photo verification?

There is no photo verification at Chat Avenue.
How to see who likes you on chat avenue without paying?

There is no feature to see who likes you on Chat Avenue.
How to block someone on chat avenue?

To block someone, you can navigate to their profile, and in the menu, you can select ignore.
About the reviewer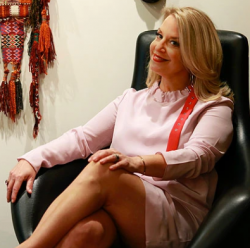 Latest posts by Dr. Berman
(see all)