Pros
Dating app for dating on the move
Use Facebook to register
Use a mobile number to create an account
Millions of global members
Registration is quick
Provides matches instantly
Well-designed
Cons
No search function
Women send messages first
Men lack control
Profile images widely available
App-only, no web version
Aimed at younger members
Requires a daily online presence
Bumble is an open dating service, but it gives more control to women. This is because women are required to take that first step, making this a unique dating experience for the ladies who want to limit their communications to only great matches. It's a platform that could be considered the best dating app (at least for women), but it has a lot to live up to, so we are going to complete our Bumble dating app review and help you determine what it's all about
First Impression of Bumble
Our first impression of Bumble instantly left us thinking that this local dating site is all about modern dating. During our Bumble app review, we discovered that their philosophy is about giving people an edgy and speedy way of dating with a unique twist. It's got millions of members, which gives it a genuine feel while it promises to provide members with the chance to explore new matches.
Bumble Interface
The interface of Bumble ensures members have an enjoyable dating experience from start to finish. Made in shades of yellow, it's bright, slick and sleek, which is always a bonus while there is no shortage of features. Navigation is easy, while members can create an account and profile with ease. As far as online dating goes, this app has lots to offer, keeping members engaged, regardless of how experienced they might be.
Bumble Members
Some dating platforms offer a lot and fail to deliver, but Bumble is different. This site really does have some impressive statistics to show off, including more than 6 million visits each month. It's predominantly a younger dating service, but that doesn't put older people off. Still, most members are aged between 18 and 44.
Bumble Sign Up Process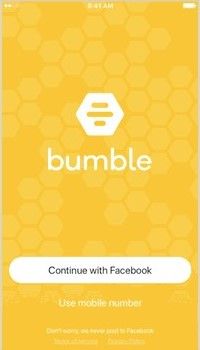 Nobody wants to spend an endless amount of time providing vast amounts of detail when dating online. Fortunately, Bumble keeps things slick because the signup process is quick and easy. Expect to take around two minutes, which is quicker than brushing your teeth, and you can use your Facebook account or mobile number too, which makes it even easier to join this dating service.
Profile Quality at Bumble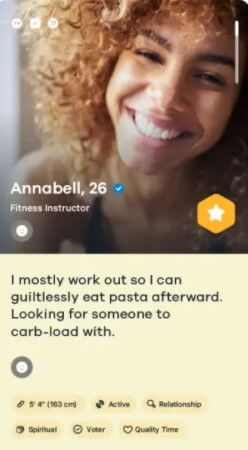 Bumble is about fast dating because of the unique approach it takes. What this means is that you shouldn't expect detailed profiles because this is all about first impressions. Therefore, profiles don't contain masses of personal information because all the dating platform wants is for members to message each other based on attraction.
As it is so easy to join, you can expect fake accounts but be vigilant, and you'll be fine. Every image added is made public, which might put people off, although the majority of members sign up using their Facebook account, so the info is taken from here. There are dating services with better profiles, but Bumble isn't a standard dating platform. With its modern twist to meeting singles online, it's all about acting fast and getting things moving, which makes it easier to overlook the profiles!
Communicating at Bumble
So, if you're expecting a useful search function that compares with other dating sites, it's time to change your expectations! Making contact using Bumble is not about searching and choosing members; it's about starting conversations. Therefore, women have to begin the conversation by playing the swiping game. If women don't like a potential match, they swipe left. If they're impressed, then they swipe right. Once she has swiped right, she is given just 24 hours to communicate with that person, and once she sends a message, he has the same timeframe to respond – we told you this dating service was different!
It's an intuitive dating service but one that is simple. There's a chat room on offer too, but ultimately, communication lies at the feet of female members, and once they do, the clock begins ticking!
Costs and Prices
When it comes to dating and Bumble, there's an array of payment options available. This enables users to choose a dating subscription that fits their needs.
BumbleBoost Subscription
1 Week – £7.99 GBP / Week
1 Month – £20.99 GBP / Month
3 Months – £14.00 GBP / Month
6 Months – £11.99 GBP / Month
Free Account
Users can take advantage of a free account if they wish, and that means that they can use the dating platform to use the following:
Create a profile
Use profile matching
Chatting and messaging
Free download of the app
Premium Account
Should users require something more from this dating service, members can upgrade and benefit from the following:
Connections can be extended for 24 hours
Expired connections can be reconnection
Use the Superswipe feature
View users who have chosen to swipe right
App & Mobile Version
Bumble is a dedicated service that uses an app only, so a lot rides on the look and feel. Fortunately, it's easy to see that they have spent a lot of money designing this dating app to ensure it delivers a seamless and enjoyable experience for all.
The download is quick and simple, making it easy to create an account, and the design is laid out perfectly, making it simple to get dating as quickly as possible. There's no denying that the owners have spent time perfecting its look and feel, ensuring it's accessible to everyone. The design is intuitive, slick and extremely user-friendly. The app has a 3-star score on Google Play and a 4-star score on the App Store.
Privacy & Safety Features
Bumble is a leading dating service to expect a high level of safety. As it is an app, a lot of the safety features will depend on your device and what you've set up. However, this dating service does ensure that account information is kept safe with all necessary encryption while it is possible to report any suspicious activity. On the whole, the dating platform has been designed to instil confidence in members, ensuring they feel safe.
Our Experience on Bumble
What we loved about Bumble was the ability to immerse ourselves in a unique dating experience. It's fast and action-packed, while we loved the fact that females are in control. This means that members genuinely have an attraction to you. The app is designed well, the members are active, and you can trust the service, which is important when dating online.
FAQ
How to pass Bumble photo verification?

There is no photo verification available.
How to see who likes you on Bumble without paying?

If you receive a message from a member, that's enough to show they are interested!
How to block someone on Bumble?

You can block someone by swiping left or going into their profile and choosing to block them.
About the reviewer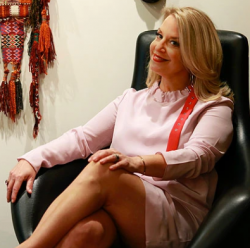 Latest posts by Dr. Berman
(see all)