If you have been asking, "Is adult friend finder real?", this is the review for you. In this review, we look at the website's membership, account quality, hits and misses, how to communication on the platform, and much more. By the end of the review, you will be able to make an informed decision about this dating platform.
Pros
Has a very active and social community
One of the most popular and reputable adult dating sites
Has several ways of sexual expression
Extensive profiles
Multifunction free version
Many search, communication, cyber sex, and discovery options
Several entertainment options besides dating
Cons
User interface is not intuitive or simple like other dating sites
Free membership has limited features
No data-driven matching system
Unequal male to female ration on the platform
Strips the romance
Too pornographic
Outdated member base
AdultFriendFinder: In-depth Review Details
Restricted Countries:
United Kingdom
United States
AdultFriendFinder, also known as AFF, is the favourite destination for everybody seeking hook-ups or casual fun. The website has everything you will need in a hookup website—chats, live webcams, videos, photos, accounts, blogs, and much more. This is the website for easy hook-ups, one night stands, and anything casual.
The website has been in existence since 1996, making it one of the oldest dating websites. Nowadays it is possible to join the website for free, create an account, upload videos and photos, and view limited versions of accounts of other members. Free access allows communicate through the chat rooms and IM, as well as watch live webcams. A paid subscription gives you to even more fancy features of the website.
The membership on this website is massive—over 80 million members globally. The platform is also open to any type of arrangements between consenting adults, be it polygamy, couple share, monogamy, fuck buddies, and many more.
We know you want more information about AFF before you try it, and that is why we did this AdultFriendFinder review.
AdultFriendFinder Interface
AFF has a convenient platform. When you visit the website, you are greeted with a background video of a sultry female who is talking about herself. The video gives you an idea of the type of content you are going to see from users of the platform. A look at the logo and it informs you that the website was created for flirting, finding someone sexy, and hook-ups. The interface gives you the impression that indeed this is an adult friends finder platform.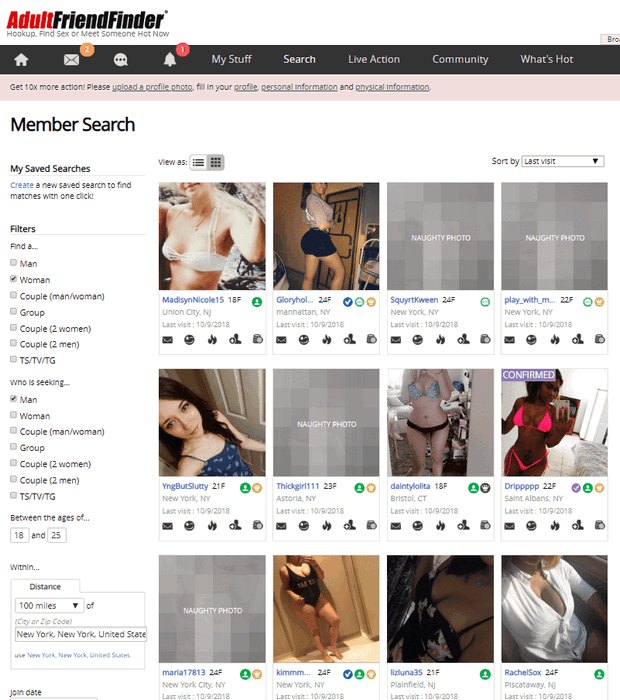 The interface has plenty of tabs, gifts, small gifts, and sections. Your account can be viewed on the upper right corner. Below the account is a list of the affordable options.
AdultFriendFinder Members
Adult Friend Finder has one of the largest user bases of people seeking casual fun both in-person and online. Everybody is highly active engaging in chats, webcams, exchanging photos and videos, as well as communicating through other channels that are on the website. Being an openly casual hookup site, user base is drawn from open-minded people seeking others who are open-minded as well for casual fun. Almost half of the men and women at adult friendfinder are between the ages of 25 and 44 years.
There is a heavy population of adult men on the website looking for females down for hook-ups. It is also possible to freely share sexual content on the website. Content can be shared through blogs, live stream, photos, and videos. Almost 80 percent are men – 20 percent are women.
There is an extensive search filter that makes it easy for you to quickly find the type of persons you would wish to hang out or hookup with. The basic function lets you look for members based on their gender, age, seeking, relationship status, last login, join date, and distance. In addition to these attributes, the advanced filters which are
available for Gold account holders let you find others based on their ethnicity, body type, sexual orientation, children, marital status, education, languages, zodiac, religion, sexual interests, lifestyle, and physical attributes.
Count of Users
AFF has over 80 million members across the world. The growing popularity and accessibility in in all parts of the world sees a growing number of persons joining the website. In fact, one of the adult friend finder review we checked indicates that the registration number is currently over 90 million. That's a high number of those who are looking for hook-ups.
Profiles Quality
The sign up process for Adult Friend Finder is easy and quick, you will be done within five minutes. It is also free to create an account with AFF, regardless of your age, gender, or location. Overall, the profile quality is not bad. However, you wouldn't find much details about a person or couple on their page. You have to pay for the subscription to view full account information.
Prepare to be bombarded with images of genitals on some of the subscribers' pages. Whereas this might be appealing to some individuals, some people find this as gross, despite it being a hookup site. Yu might join Adult Friend Finder to get hook-ups but still consider some of the images as gross.
Some of the accounts on the website are also fake. Some scammers might send you messages trying to solicit some favours from you. This is why many females claim that would not wish to meet a man from the platform unless they – the men – are Gold account holders.
Communication
There are multiple ways of communicating and interacting with members at AdultFriendFinder. Some of the tools of communications include chatrooms, magazines, groups, messaging or emailing, and live-streams. Subscribers can also keep a journal of their sexual adventures and post them as vlogs. There is also 'Sex Stories' page where it is possible to contribute short erotic stories.
You will enjoy Adult Friend Finder and its communication channels if you upgrade your account. For example, those who use a free account cannot have private interactions. An upgraded account will enable you to send and receive messages, add friends, access instant chat features, among other excusive features only made available to paid subscribers.
Costs and Prices
Now you already know that to best enjoy AFF, you have to upgrade your account. So how much is it going to cost you for the upgrade? That would depend on the package you take, which is pegged on duration of subscription.
The one month Gold membership will cost you 39.95 USD. Taking the 3 months of this membership, which is the most popular, will cost you 80.85 USD or 26.95 USD per month. The 12 months plan goes for 239.40 USD, which translates to 19.95 USD per month.
Free Account
A free AFF account lets you do a couple of things, but not as much enjoyment as you would enjoy if you are on premium plan. You can create a hot list, like videos and photos, and watch videos that have been uploaded on the homepage. A free account also allows you to use filters while looking for singles join blogs and join groups. But this is where the fun ends with the free account.
Premium Account
A Premium Account gives you access to the services already listed above on the free membership accounts, and much more. Additional benefits exclusive to Premium account holders include sending and receiving messages, adding friends, sending gifts, watching other users on live stream, use chats, and viewing full detail information.
A premium account also gives you the privilege of sending friend requests, viewing full sized photos, browsing without Ads, prioritised customer service, and comment on videos and chats.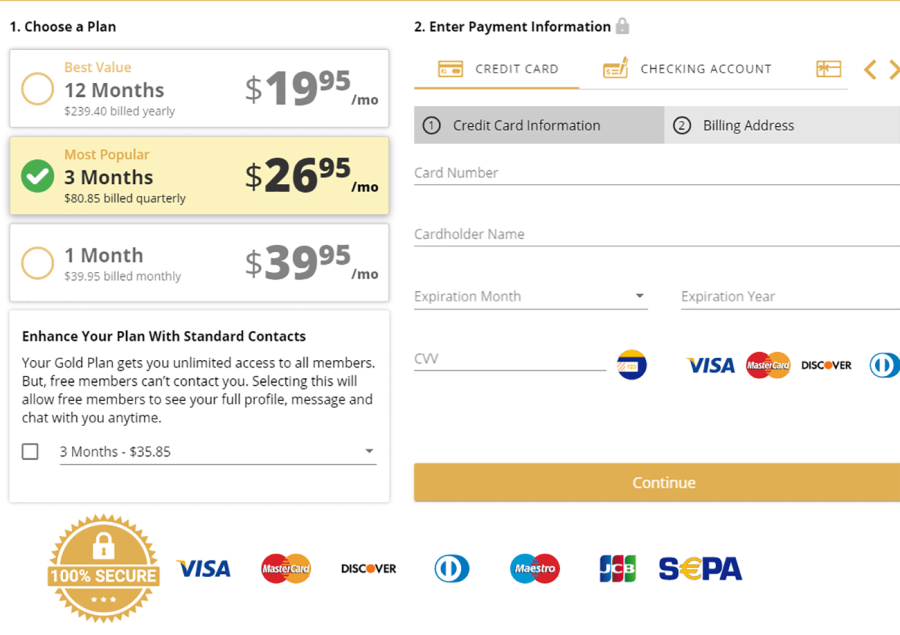 App & Mobile Version
You will find Adult Friend Finder app under the umbrella of the FriendFinder Network. FriendFinder Network is the parent organisation to AdultFriendFinder and has several websites under it. You can therefore enter your Adult Friend Finder account using the FriendFinder app, which is able to find and download on Google Play Store and Apple App Store.
There is an option to login to AdultFriendFinder on the app. However, if you strictly want people from the adult friend finder community, you can then download the AdultFriendFinder app, which is also available for free on Apple App Store and Google Play Store.
The AdultFriendFinder app has a simple design making it easy to navigate from one section or feature to another. The app allows you to watch live streams, looking for matches, use contact features, as well as use other functions. All features on the website can be used on the app. You can also use the website's mobile version on your phone which has a similar design to the app's interface.
Privacy & Safety Features
How safe Adult Friend Finder is depends on the number of precautions you take while using the website. There was a data breach on the platform a few years back, and people might be asking if the website is still safe to use. The data breach happened in 2016 affecting millions of persons with their details exposed to the public. The company states that it has taken extra precautions to prevent similar hacks from ever happening again.
Our Experience on AdultFriendFinder.com
"It has been easy for me to find easy hook-ups through AdultFriendFinder. However, there are many scammers on the platform. Being at the platform for casual hook-ups, there is a lot of open space for unwelcomed messages. There are also reports of underage prostitutes on the platform, although this is not entirely the company's blame – some girls give false information to get through the system."
The Bottom Line & Rating
AdultFriendFinder is a great website for anyone seeking casual hook-ups anywhere. The company, however, does not employ enough measures to protect everybody. This may explain why in 2016, hackers were able to penetrate the system and explore information of some members to the public. Overall, we give the website a rating of 3/5.
FAQ
Is AdultFriendFinder Free?

There is a free standard membership but it will limit what you can do at AdultFriendFinder. A paid membership grants you unlimited access to all the features.
AdultFriendFinder.com – Does it Work?

The website works if you want to find others for casual fun. There are sexual opportunities and features to be enjoyed on both the standard free account and premium membership.
About the reviewer: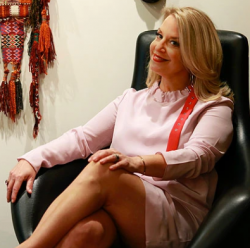 Latest posts by Dr. Berman
(see all)