Pros
Outstanding dating security - with zero fake profiles!
Flexible membership for couples or individuals.
Able to upload entire photo albums at once.
Messaging is free and unlimited.
Live chat cameras and chat rooms available.
Free search tools to find compatible users.
FabSwingers is 100% FREE!
Cons
There isn't a FabSwingers mobile app.
Relatively small membership base compared to mainstream dating.
Only one photo upload permitted at registration.
The site is quite basic and out of date.
Photo verification can take about three hours.
You will need to answer all mandatory personal questions.
No options to limit access to your profile.
FabSwingers, as the name suggests, is designed for partner swapping, couple-shares, or threesomes – you'll find a massive range of couples and singles looking for hot dating matches!
It's up to you whether you create a long-term couple-share or experience swinging for one night only.
First Impression
FabSwingers is an old fashioned dating website, but if you can look past the basics of the screen, it's a pretty impressive service given that it is entirely free of charge.
The toolbars run down the left and top of the screen, so it's easy to switch between dating features, and given that there aren't many bells and whistles, it takes no time at all to work out where everything is.
FabSwingers Interface
As we've said, this dating site only has one free dating mode, so we weren't expecting any glitzy interface – but you do need to get used to the style, which feels a bit like MySpace (remember that!).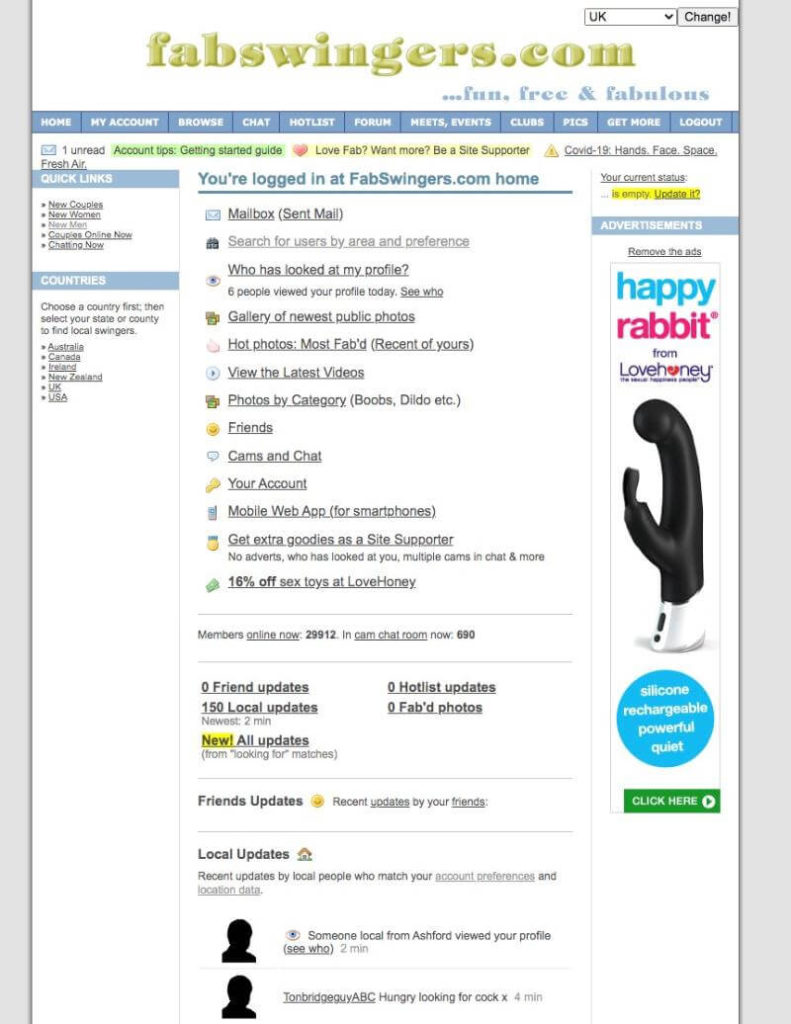 FabSwingers Members
There is a vast range of users on this couples dating site – including gay men, mature couples, singles, and everything in between!
500,000 UK members
70,000 logins every day
Most users are between 35-44, although they range from 18 right up to seniors.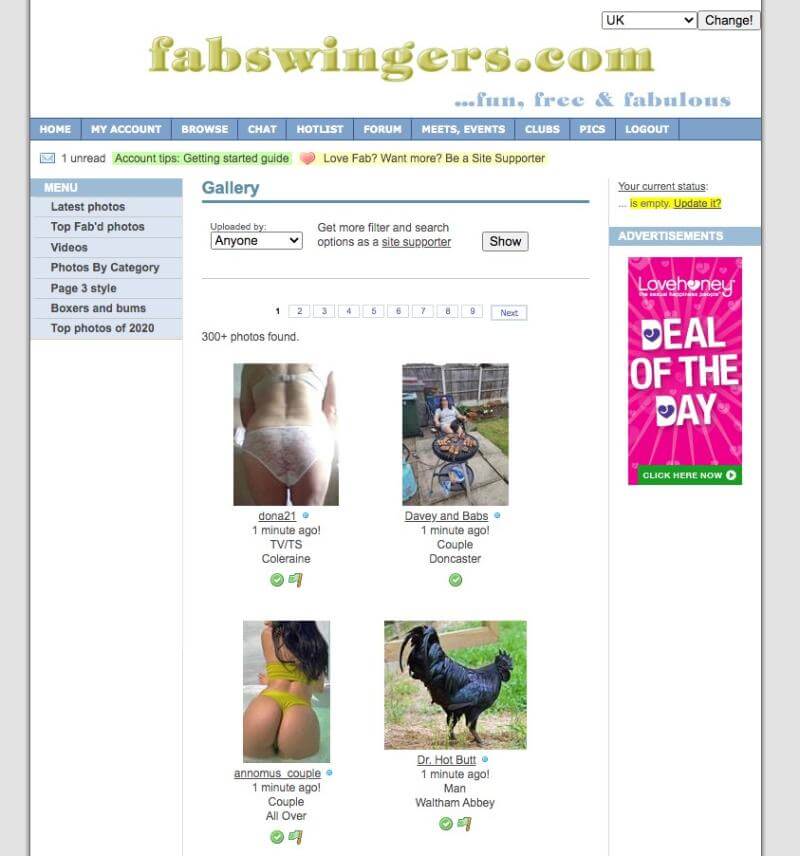 FabSwingers Sign Up/Login
Creating a FabSwingers dating account takes less than five minutes – here's what you need to do:
Select the 'Join Us' button, and enter an email address, user name, password, DOB and account category (i.e. couple, male, female, TV).
Next, you'll be asked some basic questions about your build and dating lifestyle, such as whether you drink or smoke.
The rest of the questions are optional, so you can shoot back later and populate your profile with more info and photos.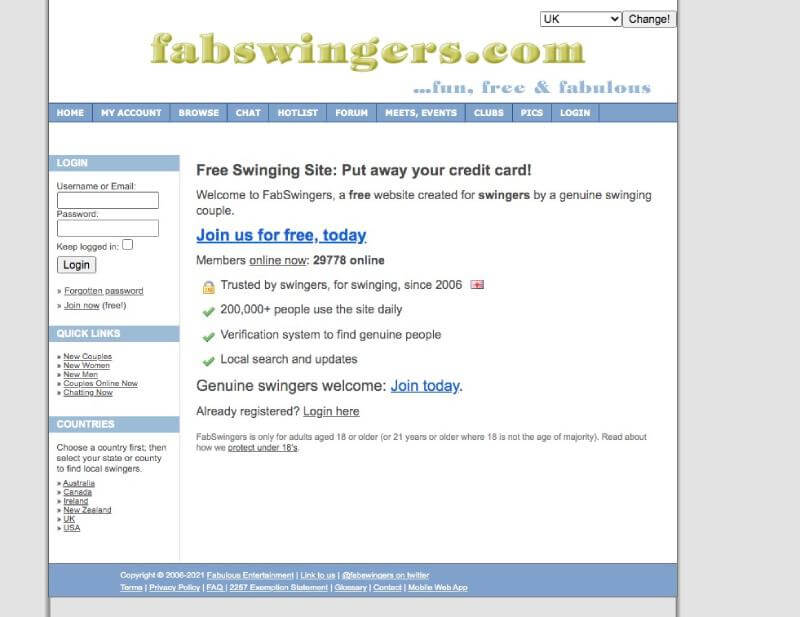 Profiles Quality
These dating profiles aren't that detailed – and they're nearly all explicit, so be warned!
Profile pages show age, sexual orientation, interests and photos. You can choose to contact someone directly from their profile or by clicking on chat when a person pops up in your search results.
Those without a profile photo can't message other users directly; you need to have a verified account before you can start messaging.
Blank profiles are usually pending new account approval.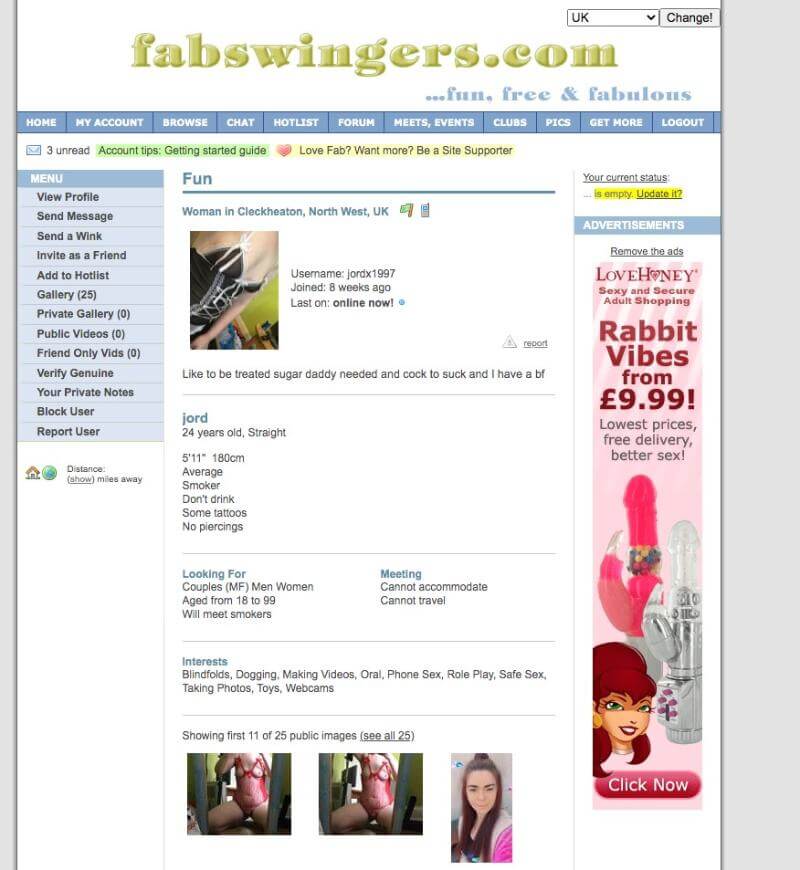 Communication
Everyone on this swing dating site can use the free search tool, so it's up to you how many people you message or whether you use the complimentary chat function.
The live webcams are also free, and you can reach these through the dating chat room's page.
Costs and Prices
FabSwingers dating is free – none of the features costs anything to use.
Dating members can opt to contribute towards the costs of running the site. Site Supporters can pay £5 per 45 days and access extra functionality, such as viewing multiple chat cameras simultaneously.
Free Account
All accounts on FabSwingers dating are free, so access includes all features, messaging, webcams and chat rooms!
Premium Account
If you choose to make a voluntary donation, you do have a few perks:
Posting and watching dating videos.
Removing ads.
Higher quality dating photos.
Using emojis in messaging.
App & Mobile Version
FabSwingers dating doesn't have an app, although you can access it through a browser on your regular mobile or tablet with the same features and account details as the desktop version.
Privacy & Safety Features
Security here is second to none, with the account admin verifying the identity of every individual member who signs up for couples dating!
You'll need to upload a profile photo and verify your account before you can engage with other members, and no information is shared with third parties.
Our Experience on FabSwingers
The value of a free dating profile here is exceptional. There are tonnes of photos, profiles, videos and webcams available, although they are very explicit, so be aware that this dating option is for sure NSFW!
Security is excellent, couples or singles can join, and FabSwingers dating is inclusive of all genders, identities and sexualities.
FAQ
Let's answer some of the most common questions about dating on FabSwingers!
What Do I Have to Do To Verify My FabSwingers Profile?

You need to upload a profile photo and then submit an image of yourself holding a piece of paper with FabSwingers.com written on it. There is no way to circumvent this dating security measure, so you must use a genuine photo.
How Can I See Who Likes Me on FabSwingers?

Remember that all the dating features here are free, so you won't need to upgrade to get access to any dating tools. Members can send likes, friend requests, view other profiles or send posts to other dating users.
How Do I Block Someone on FabSwingers?

You can block any dating member at any time if you don't want them to message you. Just head to their profile username and select the block function.
Get Started With FabSwingers Today!